This post is also available in: Chinese (Simplified), Dutch, French, German, Spanish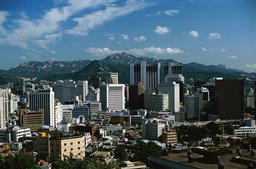 South Korea has been an exciting country to follow since Templeton started investing in emerging markets in 1987. The country represents one of the great success stories of the modern age, rising from extreme poverty at the end of the Korean War to become an affluent, democratic and highly technologically advanced country. However, we believe recent years have seen signs that the methods and structures that gave rise to the years of dramatic economic progress have started to lose their effectiveness.
President Park Geun-Hye, daughter of former president Park Chung Hee, who is seen by many commentators as the architect of the present system, recently launched reforms aimed at reinvigorating the economy. In our view, the key engines of South Korean growth up to the present have been the chaebols, giant manufacturing conglomerates that are family owned but have close links to the state. They have proven adept at utilizing a generally well-educated workforce to create a dynamic export machine, applying relatively low-cost labor to gradually more technologically complex industrial processes. Many chaebols are still successful, standing at the global forefront in technologies such as smartphones and semiconductors, as well as displaying more traditional strengths in industries such as shipbuilding and automobile manufacturing. However, the cost of the chaebols' dominance has come at a cost: a relatively backward and undervalued service sector and a certain bureaucratization of society with limited room for entrepreneurs, in our view. Still if you ask South Korean parents what future career they would like their children to pursue, often the answer would be a future with a top chaebol.
Entrepreneurial activity is seen by many as too risky, and failure in South Korea is strongly frowned upon, which, of course, discourages people from taking a chance on a new venture. South Korea's once-formidable economic growth rates have slackened in recent years, as the economy has changed from being one that utilizes existing technology to fuel its growth to one that originates it, which can provide new challenges and impediments. At the same time, the transfer of labor from unproductive sectors to more productive ones has been largely completed.
The timing of the slowdown is unfortunate, as South Korea has one of the world's fastest aging workforces, with the proportion of pensioners set to rise sharply in the next few years. President Park is looking to address this eventuality with an ambitious three-year plan.
Some measures are relatively standard—the use of low-interest-rate loans to boost homebuilding, for example, is common to many economies. Looming demographic issues are being addressed through initiatives to increase workforce participation by improving routes into employment opportunities for the young. More significantly, some measures seek to address South Korea's very low female workplace participation, one of the lowest rates among large economies. If, as officials hope, the measures raise the overall labor participation rate, we believe demographic issues would likely be considerably eased.
Some commentators have voiced disappointment at a lack of reform measures aimed specifically at the privileged position of the chaebols. However, another class of entrenched interest, South Korea's state-owned enterprises (SOEs)—close to 300 companies, including major electricity, gas and oil companies—are to see more vigorous measures. SOEs have a reputation for poor productivity, overstaffing and high wages, and recently released statistics suggesting that they have been accumulating debt at a rapid pace. Several of the largest SOEs, including heavily indebted railway and land and housing organizations, have been instructed to prepare and submit detailed debt-reduction plans, including rationalization and sale of non-core assets as well as pay freezes.
In our opinion, the most exciting element in South Korea's three-year plan lies in the proposals for "the creative economy," which entails a set of measures aimed at fostering entrepreneurship and funneling funds toward start-ups, with an emphasis on projects that apply South Korea's strengths in information and communications technologies to other economic areas. Measures such as tax breaks for "angel" investors, visas for foreign entrepreneurs, state loans and purpose-built "incubators" providing facilities for high-technology start-ups, all aim to smooth the way to new business launches. Another strand of the policy to encourage entrepreneurship is a pledge to reduce bureaucracy in key service industries such as health care, education, finance, tourism and software.
We have found South Korea to be an  attractive source of investment opportunities already, both through chaebol-run businesses, as well as other companies across various fields such as health care and retail. In our opinion, President Park's initiatives could increase the number of such interesting investment opportunities. We believe that the next few years could be potentially exciting for those who invest or are interested in investing in South Korea.
Dr. Mobius' comments, opinions and analyses are for informational purposes only and should not be considered individual investment advice or a recommendation to invest in any security or to adopt any investment strategy. Because market and economic conditions are subject to rapid change, comments, opinions and analyses are rendered as of the date of the posting and may change without notice. This material is not intended as a complete analysis of every material fact regarding any country, region, market, industry, investment or strategy.