This post is also available in: Chinese (Simplified), French, German, Italian, Spanish
I've recently shared some of my views about rising tensions on the Korean peninsula as well as the political and business landscape in South Korea, which are often intertwined. While there are challenges and uncertainties in South Korea, we haven't so far let that deter us as investors. My colleagues and I are still finding many potential investment opportunities. I recently visited South Korea and took a look at some of them.
Busan's Building Boom
I landed in Busan, which is at the southernmost tip of the Korean peninsula. With a population of 3.5 million, it's the country's second-largest city after Seoul. Busan's close proximity to the Japanese southernmost island, Kyushu, enables ferries to traverse the strait separating the two countries.
I remember taking that trip many years ago and sleeping on a tatami (straw mat) for the overnight journey. The waters were rough, so I could understand how Japan was saved in 1281 from the Mongol Yuan dynasty's invasion when a typhoon destroyed their fleet. The grateful Japanese named the storm the "divine (kami) wind (kaze)" or kamikaze. During World War II, Japan's suicide plane pilots were called "kamikaze pilots."
When visiting Busan, I like to stay on the popular and famous Haeundae Beach. The beach is also near many South Korean businesses, so it's convenient. A blockbuster disaster movie called "Haeundae" was made about a tidal wave that engulfed the beach and town. Even if you don't understand Korean, it's hard not to get caught up in the excitement, tragedy, romance and heroism portrayed in the movie. It's a real tearjerker but beautifully expresses the Korean ideals of sacrifice, nobility and bravery.
In recent years, there has been a building boom in Busan, transforming the area from a sleepy holiday destination to a year-round metropolis with modern high-rise apartment buildings and hotels looming over the seascape. Currently a new major resort project is under construction right on the beach, with the tallest skyscraper destined to reach upwards of 100 floors and 411 meters, which is quite impressive. The complex will include a hotel, shopping mall and luxury apartments. For comparison, the Empire State Building in New York in the United States is 381 meters high. The development was one of several large projects in Busan.
While development and progress can create economic benefits, not everyone is happy about it. A restaurant owner we met on the beach complained that the high-rise buildings created too much heat. Apparently, the ocean breeze doesn't circulate well around them. And, the resort development has been part of a corruption scandal the press has dubbed "Busan-gate."
Nonetheless, the area is attractive for tourists. Strolling on the beach esplanade, my colleagues and I enjoyed the entertainment, including a street band, a magician, fortune tellers and even a puppet master who deftly manipulated multiple string puppets impersonating famous singers. This was an exciting experience for me, since as a teenager I used to make puppets.
Infrastructure and Shipbuilding
Our first company visit was to one of Busan's giant shipyards. On the drive to the shipyard I learned why Korean firms are world-renowned for their infrastructure construction, and I could see much evidence of it. The Busan-Geoje expressway ride was quite spectacular, with a beautiful, white cable bridge spanning ocean gorges and silvery tunnels under the sea.
The project faced tremendous technical challenges, including two cable stay bridges of over 230 meters each and a 3.7 kilometer-tube tunnel submerged in the sea, the deepest seabed tunnel in the world. Previously the journey to Geoje had to be done by sea, so this spectacular 40-minute journey is estimated to have saved some US$300 million in traffic costs each year and is generating economic output in the billions of dollars.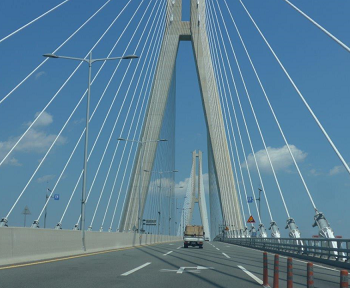 The roadway cost more than US$2 billion and was completed in 2004 by a group of Korean construction companies with a 40-year concession from the Korean government.
Meanwhile, the tunnel construction involved tube elements that would sit on the seabed in a dredged trench backfilled around the hollow boxes. The construction required remote-controlled underwater jacking frames, a deep level jack-up barge with pinpoint GPS aggregate placing and even a mini-submarine marine access vehicle. The contractors had to contend with high waves and typhoon conditions at times, which explains why the project took six years to complete.
Access to Geoje Island was not only important for commercial reasons but also had a cultural element since the famous Admiral Yi Sun-sin had his base on one of the islands in the area. Shipbuilding is not new to the area, since Admiral Yi was famous for building the "turtle ships," wooden ships plated with iron and driven by oarsmen rather than sails.
When we arrived at the shipyard, we toured an ice-breaking liquid natural gas (LNG) carrier under construction. Within the LNG tank being built, many employees were installing a special type of stainless steel insulation panels imported from France, which would not change shape regardless of extreme temperatures.
The firm's executives said that clients were asking not only for LNG ice-cutting ships but also for bulk carriers, crude carriers and even container ships that use arctic technology to traverse northern arctic sea routes. Officials told us that there was Chinese competition—with financing support from Chinese banks—but they said the Chinese LNG orders were not for ice-breaking ships.
Despite the success with the ice breakers, the company (along with other Korean shipbuilders) had difficulties because of slower demand for other vessels and competition from China. We couldn't help but admire the management's persistence and the dedication of the workers to emerge out of some financial difficulties the company had faced. As we toured the gigantic shipyards, there was a buzz of activity.
Labor Unions
Labor unions in South Korea are a powerful force. Despite a downturn in worldwide shipping, in 2015 unions at South Korea's largest shipbuilders announced a strike to demand a 6.77% year-on-year wage increase, removal of performance-based salaries and guaranteed employment until retirement. This was despite the fact that some of the firms were reporting operating losses and difficulties in managing their debt. There was a fear that these strikes could elicit sympathy strikes in other industries.
In late 2015, members of the Korean Confederation of Trade Unions (KCTU) were arrested during a protest outside the National Assembly. At the time, then-President Park Geun-hye said labor-market reform was her top priority.
A tripartite commission, including labor, management and government representatives, reached an agreement allowing employers to unilaterally change rules of employment and to dismiss employees who underperformed. This was a change from the past when employers could only terminate contracts if employees were involved in corruption or embezzlement, or if the company was in financial difficulty. One issue unions were critical of was the "peak wage system," which would allow companies to reduce wages for employees older than 55.
Automobiles and Tires
While in South Korea, we visited an automobile manufacturer and it was interesting to learn about industry efforts in producing electric vehicles as well as attempts at mass producing hydrogen-powered vehicles. Although hydrogen-powered cars have a much farther driving range and recharge faster than electric cars, for now at least, these types of vehicles are too costly.
We also visited a tire company we had toured previously. During our prior visit, we heard loud music being played as we entered the plant. I thought there was a factory party going on! I was wrong—it was the labor union playing the loud music to put pressure on the company in coming wage negotiations and also to protest a management change.
We visited their new plant in another part of the province and were impressed by how clean and automated it was. We didn't see workers involved in actually making tires; their main job was to ensure quality control, observing and operating robots that did the bulk of the work. Robotic trolleys also transported tires around the factory from one station to another. One executive at the company told us in the past, some tire companies had moved manufacturing to countries where labor costs were low, but were now moving back to developed countries because of superior automation, which was interesting to note.
The company executives told us about the importance of the Chinese market. Apparently, consolidation was taking place in the Chinese tire industry. US anti-dumping tariffs imposed on tires produced in China and raw-material price increases have caused a number of Chinese tire makers to post losses, and even go out of business. Some firms were closing their plants in China and moving to Vietnam and other emerging markets, but some were even moving to the United States given the strides in robotic technologies.
Leisure Pursuits  
While in South Korea, we also visited some of the modern shopping malls that had recently been built. From what we saw, clearly the consumer market was alive and well. President Moon Jae-in's new government vowed to expand the welfare budget, with more money allocated for veterans' allowances, childcare subsidies and support for small-size enterprises, which were facing increased minimum wages starting in 2018. These measures should help boost consumer spending.
Despite tighter lending rules, household credit growth has been accelerating. Household debt has been growing and there have been measures to curb real estate speculation in some areas. One of the measures includes a higher capital gains tax on people who owned two or more homes. The government also designated certain speculative real estate areas, and the amounts banks could lend for mortgages changed.
In Seoul, we visited one of the sports-brand retailers with a global presence, and we learned of the trend towards more outsourcing of production and of brand licensing. In this firm's case, all of its products were manufactured outside the country. It was an example of the trend in Korea towards an emphasis on brand building to attract higher prices rather than a strategy of manufacturing cheap goods. It also reflected the global nature of Korea's businesses.
Pharmaceuticals and Cosmetics
Korean pharmaceutical companies are becoming very strong and are going abroad for growth, like electronics and construction companies have done in the past. There are more than 200 pharmaceutical companies in South Korea, which are mostly focusing on producing generic drugs—copies of widely used branded medications. However, the government is supporting pharmaceutical companies in the development of new drugs. Thus, one firm we visited was interested in purchasing foreign drug companies with a strong pipeline of new drugs.
The beauty industry is also large in South Korea, not only in the production of cosmetics but in plastic surgery. People from China and elsewhere in Asia come to South Korea for various treatments.
At a cosmetics manufacturing firm, we learned from the managers that, contrary to many other consumer segments, the industry tends to not only survive but thrive during bad economic times and recessions. It is the so-called "lipstick effect" where women tend to purchase more makeup and cosmetics when money is tight, favoring small pleasures over larger purchases.
Chinese inbound tourists have also helped the company's domestic duty-free business. Talking about their foreign competitors, the company's managers said customers in the United States and Europe largely emphasized makeup and colored cosmetics, but given their aging populations, there has been an increasing interest in skincare cosmetics. Korean cosmetics are found all over Asia and also the world, since Korea has become a major cosmetics manufacturer for many famous global brands as well as under their own domestic brands.
These are just a few of the companies I recently visited in South Korea, which has many diverse industries and businesses. A key takeaway my colleagues and I had during our recent company visits was the impact of trade and how important it is to the survival of South Korean companies. China is a big part of the equation in many ways, including its demand for Korean goods, competition with Korean businesses and also as a vital source of raw materials for Korean manufacturers.
Technology was also a big theme running through many businesses in South Korea. We saw the use of new technologies having an impact in many ways, from robotics on factory floors to the use of 3D scanners and printers in dental offices. And lastly, South Koreans' quest for quality has helped many companies stand out as leading global brands.
Mark Mobius's comments, opinions and analyses are for informational purposes only and should not be considered individual investment advice or recommendations to invest in any security or to adopt any investment strategy. Because market and economic conditions are subject to rapid change, comments, opinions and analyses are rendered as of the date of the posting and may change without notice. The material is not intended as a complete analysis of every material fact regarding any country, region, market, industry, investment or strategy.
Important Legal Information
All investments involve risks, including the possible loss of principal. Investments in foreign securities involve special risks including currency fluctuations, economic instability and political developments. Investments in emerging markets, of which frontier markets are a subset, involve heightened risks related to the same factors, in addition to those associated with these markets' smaller size, lesser liquidity and lack of established legal, political, business and social frameworks to support securities markets. Because these frameworks are typically even less developed in frontier markets, as well as various factors including the increased potential for extreme price volatility, illiquidity, trade barriers and exchange controls, the risks associated with emerging markets are magnified in frontier markets. Stock prices fluctuate, sometimes rapidly and dramatically, due to factors affecting individual companies, particular industries or sectors, or general market conditions.