This post is also available in: Chinese (Simplified), Dutch, French, German, Italian
It wasn't all that long ago that shopping for clothes, books and other wares meant traveling to a store, mall or market. Today, we can buy nearly anything on the internet from any location. The world's largest online retailer is located in China.
Just a few years ago, making a bank deposit meant a trip to a local bank branch, where you'd stand in line to wait for a bank teller to process your transaction. Today, Poland is considered a leader in online banking technology, with one bank there offering features such as 30-second loan approval via mobile phone as well as alerts offering custom advice and discounts based on a user's behavior and location. A Turkish bank won a global innovation award in 2017 for its agricultural smartphone app, which helps farmers share data and information and get advice in real time, and even acts as a platform for equipment rentals.
The largest maker of smartphones to power these online transactions is located in South Korea.
This technological transformation has not only made things like shopping and banking easier, it has spread into nearly every facet of our lives. In health care, emerging-market innovations are attracting the attention of companies and providers in developed countries where costs are escalating. Many years ago, Mexico, for example, created a telephone-based health care advice and triage service available to more than one million subscribers and their families at a low cost, paid through their phone bills.1 In India, diabetic patients affiliated with a particular hospital can text their blood sugar count to clinicians and receive feedback via their mobile phone.
According to a 2014 PwC study, more than 59% of patients living in emerging markets used at least one mobile health application or service, compared with 35% in the developed world.2
As of 2016, China, India, the United States, Brazil and Japan represented the largest internet user base in the world, respectively, with 1.72 billion in total.3 The three emerging markets within the list command a total of 1.32 billion users.4 That means 1.32 billion users have access to goods, services and information. As such, we think e-commerce is still very much a penetration growth story, resonating in several markets as consumers increasingly use multiple devices for online transactions.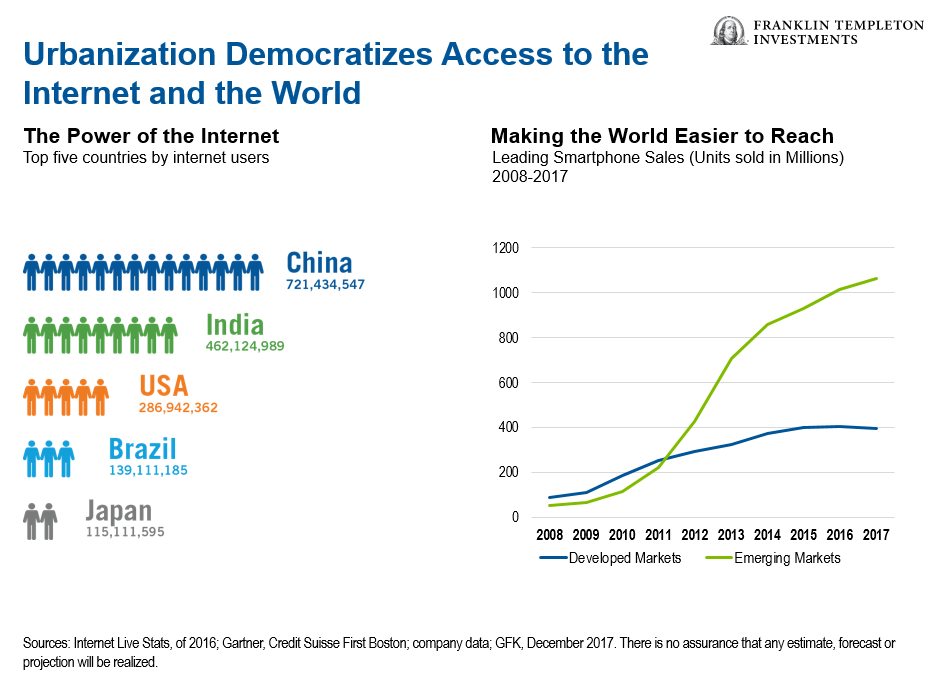 Technological Leapfrogging
Often, developing countries can capitalize on technology more quickly than more advanced countries. A technological "leapfrogging" enables the adoption of new technologies that bypass legacy models or systems. For example, some countries in Africa quickly embraced mobile payment systems without ever building brick-and-mortar bank branches.
The supercomputers' arms race used to be an American-Japanese rivalry. Although it was late to join the race, China now is sitting at the very top of the list with the world's most powerful supercomputer, which ran a simulation of the creation of space and time in just over an hour.5 What's even more impressive, this powerful computer runs on Chinese-made microprocessors.
Emerging markets are quickly automating their factories, accounting for a quarter of the world's industrial robotics demand.6
Technology is also shaping the automobile industry, introducing new trends such as electric vehicles and automated driving systems.
Decades ago, the United States and Japan were the world's leading automobile producers. Today, China is the world's largest auto producer and is at the forefront of the autonomous vehicle race. There have been several Chinese partnerships over the past few years in the areas of autonomous driving software. Component manufacturers are also joining this trend as we see new mobility as a long-term theme.
Self-driving vehicles are one of the key sectors in the Chinese government's "Made in China 2025" initiative, which encourages collaboration between Chinese technology companies in all aspects of development. In December 2017, the Beijing Municipal Transport Commission granted approval for testing self-driving vehicles under certain conditions.
The Story's Just Starting
These are just a few examples of how developing countries are embracing technology, and we expect more new opportunities to emerge. In 2016, more than 40% of the world's new patent applications came from emerging economies, with China leading the charge at 1.3 million applications filed, more than the United States and Japan combined. 7
The technology sector in emerging markets is providing us with many interesting opportunities, from hardware to software to various forms of e-commerce and entertainment.
Our job is to evaluate whether companies have sustainable earnings power and are trading at a discount relative to their history as well as what is available in the market. As part of our research process, we also strive to meet the people behind the companies whenever possible. Our team of investment professionals around the world keeps us in contact with entrepreneurs in many emerging markets.
In the not-so-distant past, developed markets were at the forefront of new innovations. That is no longer the case. Developing countries are inventing unique solutions to meet the unique challenges they face, and we expect this trend to continue.
Chetan Sehgal's comments, opinions and analyses are for informational purposes only and should not be considered individual investment advice or recommendations to invest in any security or to adopt any investment strategy. Because market and economic conditions are subject to rapid change, comments, opinions and analyses are rendered as of the date of the posting and may change without notice. The material is not intended as a complete analysis of every material fact regarding any country, region, market, industry, investment or strategy.
Important Legal Information
All investments involve risks, including the possible loss of principal. Investments in foreign securities involve special risks including currency fluctuations, economic instability and political developments. Investments in emerging markets, of which frontier markets are a subset, involve heightened risks related to the same factors, in addition to those associated with these markets' smaller size, lesser liquidity and lack of established legal, political, business and social frameworks to support securities markets. Because these frameworks are typically even less developed in frontier markets, as well as various factors including the increased potential for extreme price volatility, illiquidity, trade barriers and exchange controls, the risks associated with emerging markets are magnified in frontier markets. Stock prices fluctuate, sometimes rapidly and dramatically, due to factors affecting individual companies, particular industries or sectors, or general market conditions.
The technology industry can be significantly affected by obsolescence of existing technology, short product cycles, falling prices and profits, competition from new market entrants as well as general economic conditions. The technology sector has historically been volatile due to the rapid pace of product change and development within the sector.
_________________________________
1. Source: McKinsey & Co, "The Emerging Market in Health Care Innovation," May 2010.
2. Source: PwC, "Emerging MHealth: Paths for Growth," 2014.
3. Source: Internet Live Stats as of 2016.
4. Ibid.
5. Source: South China Morning Post, "Chinese scientists create biggest virtual universe with world's fastest computer, beating European record" (July 2017).
6. Source: IFR International Federation of Robotics, World Robotics 2016 Edition.
7. Source: WIPO (2017). World Intellectual Property Indicators 2017. Geneva: World Intellectual Property Organization.