This post is also available in: Chinese (Simplified), French, German, Italian, Spanish, Polish
As we near the second half of 2018, we are generally optimistic about the growth prospects for Latin American economies. The most recent economic statistics appear supportive. Gross domestic product (GDP) growth in Latin America is predicted to rise to 2.0% in 2018, up from 1.3% in 2017.1 Despite recent volatility and negative sentiment arising from increased rhetoric regarding trade protectionism, growth in the region continues to be supported by a favorable macroeconomic environment, higher commodity prices, continued strength in global growth, low inflation and accommodative monetary policies.
In particular, we think Latin America's two largest economies, Brazil and Mexico, could continue to benefit from economic growth and reforms in areas such as labor, fiscal consolidation and private investments. However, we believe further reforms are needed, and upcoming elections in those countries could influence our outlook.
Brazil's New Beginnings
Our long-term outlook for Brazil is positive, bolstered by strength in the agriculture sector, increased consumer spending2 and some successful economic reforms.
Likewise, Brazil's GDP growth is rebounding—it's a much-needed marker after the 2015-2017 Brazilian economic crisis. The economic recovery that began last year seems to be strengthening, as fourth-quarter 2017 GDP growth was fairly broad-based across all sectors of the economy.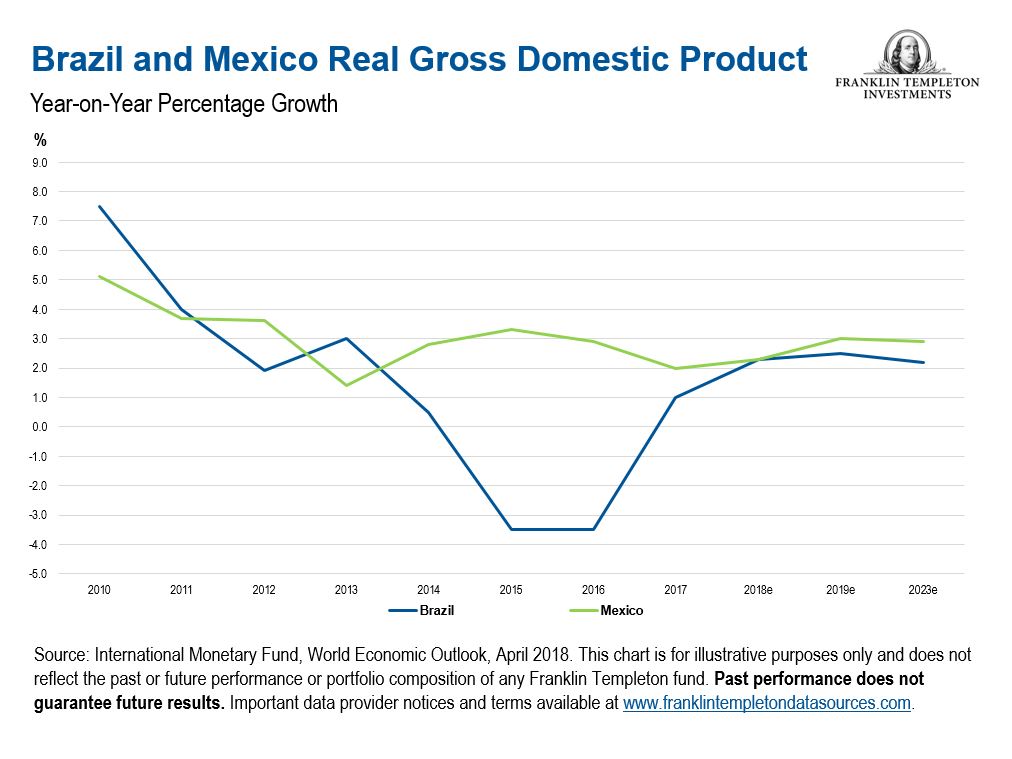 Impact of Political Uncertainty in Brazil
Brazilian President Michel Temer's administration has already implemented some much-needed reforms, and some remaining proposals could still be partially met this year before the October 2018 general elections. These include auctioning offshore blocks full of oil deposits to major players in the oil sector.
The Brazilian labor market received a boost after new laws, which came into effect last year appeared to benefit both companies and job seekers. Under the new laws, companies are allowed to hire workers with flexible schedules, saving companies money and reducing unemployment. Despite the success of these reforms, the government's plans to push through a pivotal overhaul of Brazil's costly pension system failed.
With the Brazilian general election set to take place in October, we think it's unlikely we'll see any action taken on pension reforms until 2019, regardless of the election outcome. But we are generally positive on the possibilities Brazil offers, due to the government's continued emphasis on reforms.
We recognize uncertainty will likely continue to weigh on Brazil's often-unpredictable political landscape, as candidates from outside the political establishment could emerge. Any election-related uncertainty could weigh on investors' minds.
Still, we think that uncertainty in Brazil can create buying opportunities in Brazil and other economies in Latin America, as some companies have ended up stronger from the recession period due to the actions undertaken during that difficult period. Cost reductions by companies will likely bring permanent changes within these organizations and give them better financial leverage in the long run.
Reform Uncertainty Can Offer Opportunity
At the same time, we think consumer stocks could receive a boost after Brazil's central bank cut its benchmark Selic interest rate to a record low of 6.5% in March and signaled that it is likely to lower interest rates further. Commercial banks and segments of the consumer retail market could be especially attractive given that low inflation and resumption of consumer credit growth will likely help activity in these areas.
In addition, we see strong pent-up demand for investments in infrastructure, such as transportation and financial infrastructure platforms, to tackle many bottlenecks for growth.
As we see growth return, aided by reform tailwinds, we remain optimistic about the future. Nonetheless, we are mindful of the potential volatility ahead and will watch developments in Brazil closely, particularly the upcoming election.
Mexico Regains Footing
Brazil isn't the only economy where reforms are starting to bear fruit. Mexico, the second-largest economy in Latin America after Brazil, has seen the government break up monopolies, open up the utility and energy sectors, and push ahead with education and labor reforms. We believe the implementation of the structural reform agenda will likely support growth going forward.
Mexico has been gradually positioning itself as an inexpensive manufacturing hub that's linked to North America's supply chain. On the domestic front, Mexico still has an underpenetrated banking system even compared to other emerging-market economies.
The country generally offers cheaper manufacturing labor than China and an increasing number of specialized workers. Mexico's history in the manufacturing sector, along with these cost advantages, means the country has been able to regain its position as a global manufacturing hub.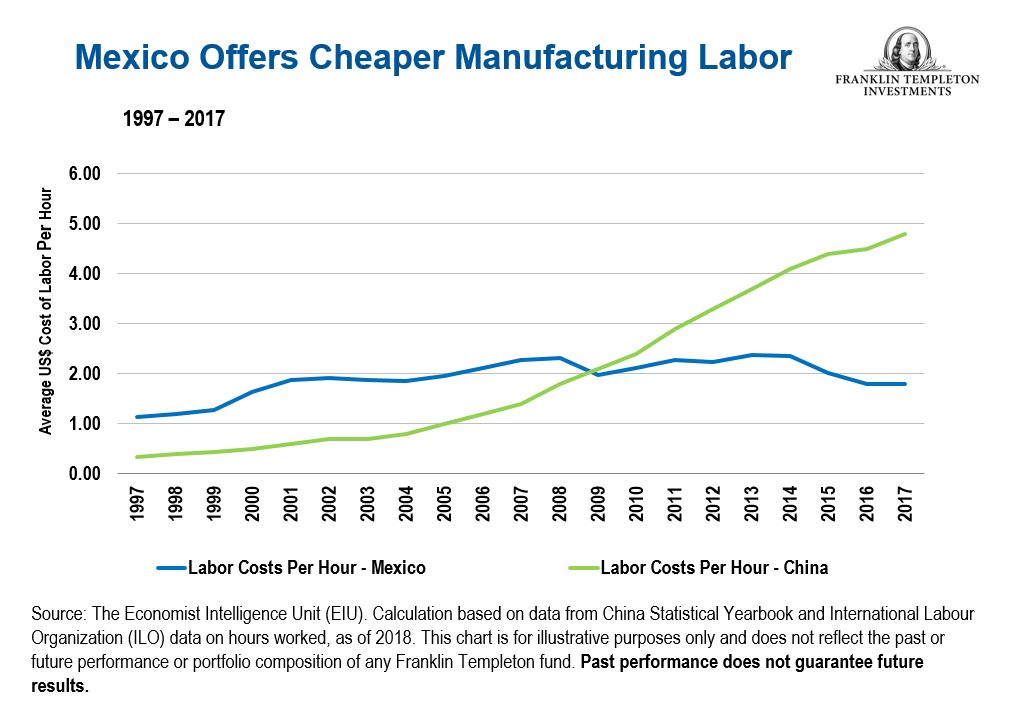 With a general election in Mexico scheduled for July 2018, it'll be a busy political year for the region. Whoever wins the Mexican presidency will have to lead renegotiation discussions with its North American Free Trade Agreement (NAFTA) partners: The United States and Canada.
Mexico's temporary exemption from US tariffs on steel and aluminum imports will likely depend on satisfactory NAFTA negotiations. Nonetheless, we view the country's macroeconomic outlook as stable with fiscal discipline and focus on an open economy.
If Mexico is able to close an agreement on NAFTA, it would be seen as a positive. With short-term market jitters aside, over the medium to long term we do not expect Mexico to deviate from market-oriented policies that are now taking hold across Latin America.
Argentina on the Path to Recovery
We believe recent volatility regarding the Argentine peso is part of the country's path to adopting a market-friendly approach.
Many important measures have already been implemented, such as opening up markets for capital flows, readjusting tariffs that were artificially low and restoring a credible monetary policy. Still, macro challenges persist amid a backdrop of a high current account deficit and stubbornly high inflation. Strong measures were taken to readjust expectations with a 675 basis point (6.75%) interest-rate hike to 40%.3
Despite this, our long-term view is optimistic. After years of populist measures, we think Argentina offers potential for growth on the back of multi-year GDP annualized growth, improving unemployment rates, strengthening private consumption growth and robust industrial output. Bank loan penetration is extremely low,4 which will allow for strong banking growth and consolidation. Other opportunities also arise given the low base of penetration of other goods and services, such as autos or civil construction, as well as continuation of a full adoption of market prices in regulated sectors.
Argentina's efforts at opening up its economy, which could attract investments across multiple sectors, might be recognized by MSCI and put the country in line for a potential upgrade to emerging-market status.
The comments, opinions and analyses expressed herein are solely the views of the author(s), are for informational purposes only and should not be considered individual investment advice or recommendations to invest in any security or to adopt any investment strategy. Because market and economic conditions are subject to rapid change, comments, opinions and analyses are rendered as of the date of the posting and may change without notice. The material is not intended as a complete analysis of every material fact regarding any country, region, market, industry, investment or strategy.
To get insights from Franklin Templeton delivered to your inbox, subscribe to the Investment Adventures in Emerging Markets blog.
For timely investing tidbits, follow us on Twitter @FTI_emerging and on LinkedIn.
Important Legal Information
All investments involve risks, including the possible loss of principal. Investments in foreign securities involve special risks including currency fluctuations, economic instability and political developments. Investments in emerging markets, of which frontier markets are a subset, involve heightened risks related to the same factors, in addition to those associated with these markets' smaller size, lesser liquidity and lack of established legal, political, business and social frameworks to support securities markets. Because these frameworks are typically even less developed in frontier markets, as well as various factors including the increased potential for extreme price volatility, illiquidity, trade barriers and exchange controls, the risks associated with emerging markets are magnified in frontier markets. Stock prices fluctuate, sometimes rapidly and dramatically, due to factors affecting individual companies, particular industries or sectors, or general market conditions.
_______________________________________________
1. International Monetary Fund, World Economic Outlook, April 2018. There is no assurance that any projection, estimate or forecast will be realized.
2. World Bank National Accounts data, and OECD National Accounts data files, May 2018.
3. Banco Central de la Republica Argentina, May 8, 2018.
4. Source: Bank of International Settlements (BIS), as of September 30, 2017.