This post is also available in: Chinese (Simplified), Dutch, French, German, Italian, Polish
Three Things We're Thinking about Today
Saudi Arabia's inclusion in the MSCI Emerging Markets (EM) Index, which will likely take effect in at least two tranches over May and August 2019, could transform the Kingdom's capital market and boost the wider MENA region. With only US$9 billion in foreign investment in the Kingdom's stock exchange, Saudi Arabia's new EM status is likely to bring with it significant foreign inflows, which could, in the long term, trickle through to surrounding economies as well. Improving economic fundamentals may also attract investors.
The Indian banking system is one of the fastest growing banking systems in the world. Taking into account that India's formal economy remains a fraction of the country's gross domestic product (GDP) and that only half of the population's savings are in financial assets, there is significant growth potential for banks. Private-sector banks currently have a market share of ~30%, while state-owned banks make up the rest. State-owned banks, however, are less competitive and lag in areas like automation, technology, customer service and management quality. Thus, we expect private sector banks to grow faster and gain market share. Recent concerns about high levels of bad loans at state-banks could also benefit private lenders.
A truckers' strike over diesel prices heightened investor concerns in Brazil, weighing on equity prices across the market. However, we believe that opportunities for longer-term investors have emerged as quality stocks are now trading at lower valuations. Overall, we are generally positive on the investment opportunities in Brazil given the continued emphasis on reforms. The country also has great export potential in manufacturing and agriculture, which we believe should reflect in better GDP figures going forward.
Outlook
Emerging markets suffered a setback in the first half of 2018, precipitated by investor concerns over rising US interest rates, US dollar strengthening and rising trade tensions, particularly between the United States and China. However, we do not foresee a derailment in emerging–market fundamentals, which should continue to grow at a strong pace.
Historically, we have seen sharp market gyrations (typically downwards) in both EM equities and currencies ahead of tightening by the US Federal Reserve. However, during the actual implementation of previous US rate hikes, EM currencies have often appreciated, as have equities—illustrating that markets tend to price in a worst-case scenario prior to the event.
Although many EM companies hold US dollar-denominated debt, and a stronger US dollar could affect earnings, we do not believe that a stronger US dollar derails the EM story. It should also be noted that EMs generally have a higher proportion of local currency issuance, and that much of the US dollar-denominated debt is backed by US dollar-denominated revenues at the corporate or sovereign level. It is important to note that the effects today are likely different than previous episodes of dollar strength. Today, most EM currencies have floating foreign exchange regimes. Emerging markets, as a group, run a current account surplus, and the effect of a strong dollar will differ for countries depending on each nation's economic structure and policies.
While trade tensions have prompted a cautious EM outlook over the short term, we believe intra-EM trade has become more important in recent years, and rising protectionism may further pivot focus towards greater regional agreements.
Despite the expected market volatility, we maintain a constructive view of emerging markets, supported by what we believe are attractive valuations, strong earnings growth potential and solid fundamentals. Emerging markets, as measured by the MSCI EM Index, had a forward price-to earnings ratio of 11.3x and price-to-book ratio of 1.7x, as of June 30, 2018.1 Emerging markets trade at a ~25% discount to developed markets (as represented by the MSCI World Index2) and remain attractive, in our opinion.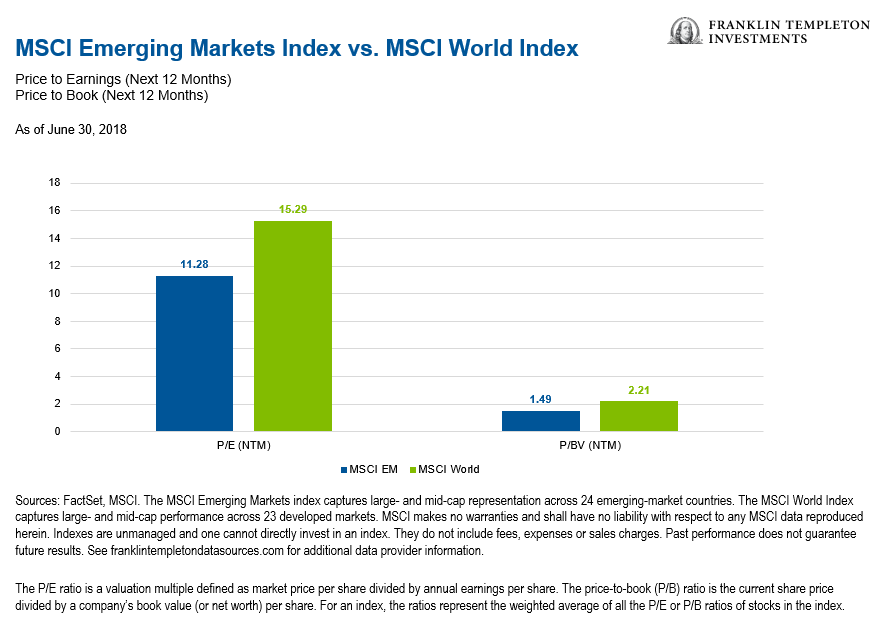 Emerging Markets Key Trends and Developments
EM equities bore the brunt of mounting global trade tensions to finish the second quarter lower, while developed-market stocks eked out a modest gain. The EM pullback was compounded by local economic and political concerns as well as a stronger US dollar. The MSCI EM Index declined 7.9% over the quarter, compared with a 1.9% gain in the MSCI World Index, both in US dollars.
The Most Important Moves in Emerging Markets in the Quarter
Asian stocks collectively retreated and were hampered by an escalating US-China trade spat and receding local currencies. Pakistan, Thailand and Indonesia led the way down. Pakistan's widening current account deficit and shrinking foreign exchange reserves dented investor sentiment. Thailand succumbed to market caution even as officials raised their 2018 economic growth forecast on the back of stronger exports, tourism and domestic demand. Indonesia lost ground as the rupiah slid against the US dollar, prompting Indonesia's central bank to raise its key interest rate sooner than expected.
Brazil was one of the worst-performing markets in Latin America and among emerging markets as a whole. Stocks in Chile also underperformed their EM peers, while Mexico and Peru ended the quarter with relatively smaller declines. Brazil's market was weighed down by concerns that labor strikes could impact economic activity, volatility ahead of the upcoming presidential elections, as well as weakness in the real. Colombia was a bright spot, however, recording a solid gain, supported by the victory of a market-friendly candidate in the presidential elections.
Concerns about a trade war between the United States and the European Union, coupled with political anxiety in Italy, led European emerging markets to underperform their global peers. Turkey, Hungary and Poland were among the weakest regional markets, ending the quarter with double-digit declines. Rising inflation, a depreciating currency, high interest rates and political turmoil drove down equity prices in Turkey. President Recep Tayyip Erdogan won re-election with a majority in the June elections. In Russia, although the market fell, it performed better than its peers as oil prices remained on an upward trend. Weakness in the rand, portfolio outflows and disappointing first-quarter GDP growth weighed on equity prices in South Africa.
Frontier markets had a tough second quarter, significantly underperforming their global counterparts. Argentina was by far the weakest market, losing over 40% in US-dollar terms, driven entirely by the devaluation in the peso, amidst a volatile political and economic environment. Vietnam, Morocco and Lebanon also lost ground. The Vietnamese market experienced profit-taking following strong gains over the first quarter. Tunisia and Mauritius, on the other hand, ended the quarter with gains.
Outlook
As of June 30, 2018
CFA® and Chartered Financial Analyst® are trademarks owned by CFA Institute.
The comments, opinions and analyses expressed herein are solely the views of the author(s), are for informational purposes only and should not be considered individual investment advice or recommendations to invest in any security or to adopt any investment strategy. Because market and economic conditions are subject to rapid change, comments, opinions and analyses are rendered as of the date of the posting and may change without notice. The material is not intended as a complete analysis of every material fact regarding any country, region, market, industry, investment or strategy.
Important Legal Information
All investments involve risks, including the possible loss of principal. Investments in foreign securities involve special risks including currency fluctuations, economic instability and political developments. Investments in emerging markets, of which frontier markets are a subset, involve heightened risks related to the same factors, in addition to those associated with these markets' smaller size, lesser liquidity and lack of established legal, political, business and social frameworks to support securities markets. Because these frameworks are typically even less developed in frontier markets, as well as various factors including the increased potential for extreme price volatility, illiquidity, trade barriers and exchange controls, the risks associated with emerging markets are magnified in frontier markets. Stock prices fluctuate, sometimes rapidly and dramatically, due to factors affecting individual companies, particular industries or sectors, or general market conditions.
_____________________________
1. Source: FactSet, as of June 30, 2018. The MSCI Emerging Markets Index captures large- and mid-cap representation across 24 emerging-market countries. Indexes are unmanaged and one cannot directly invest in them. Past performance is not an indicator or guarantee of future performance. MSCI makes no warranties and shall have no liability with respect to any MSCI data reproduced herein. No further redistribution or use is permitted. This report is not prepared or endorsed by MSCI. Important data provider notices and terms available at www.franklintempletondatasources.com.
2. Source: FactSet, as of June 30, 2018. The MSCI World Index captures large- and mid-cap performance across 23 developed markets. Indexes are unmanaged and one cannot directly invest in them. Past performance is not an indicator or guarantee of future performance. MSCI makes no warranties and shall have no liability with respect to any MSCI data reproduced herein. No further redistribution or use is permitted. This report is not prepared or endorsed by MSCI. Important data provider notices and terms available at www.franklintempletondatasources.com.