This post is also available in: French, German, Italian, Spanish
Three Things We're Thinking About Today
News that the United States and China made progress in reaching a partial trade deal in October was cheered by investors globally. The "phase one" agreement, which was originally expected to be signed in November, is said to cover agricultural products purchases, financial services, currency and intellectual property. While the deal is still in flux, the United States did suspend the tariff increase on Chinese imports that was scheduled for October 15. Although the US-China trade conflict has been dominating headlines, it should be stressed that the impact of the conflict has not been limited to China; rather, we have seen global implications. In addition to diversifying its trading relationships, China has been turning less dependent on trade. Domestic consumption now makes up the lion's share of China's economic growth, accounting for 76% of gross domestic product (GDP) in 2018, up from 59% in 2017.1
While concerns of a slowdown in economic growth have been weighing on market sentiment, the International Monetary Fund (IMF) expects global growth to accelerate in 2020, driven primarily by a recovery in economic activity in emerging markets (EMs). The IMF forecasts economic growth in emerging and developing economies to accelerate to 4.6% in 2020, from 3.9% in 2019, and more than double the expected 1.7% increase for advanced economies in 2019 and 2020.2 Improving fiscal, economic and monetary policies and a renewed focus on structural reforms in several EMs appear to be gaining traction. The results of these trends are expected to become more evident in strengthening GDP growth in 2020, which could also provide a more favorable operating environment for EM companies.
Technology is expected to become a key driver of global growth, especially in EMs where companies have been using innovation and technology to leapfrog and disrupt traditional business models. EMs' accelerating internet usage and penetration are likewise hastening opportunities for efficiencies, cost savings and ease of doing business. Since the turn of the century, we have also witnessed a significant increase in the trade value of "high-tech" goods being exported by EM countries. This includes a range of sectors including aircraft and spacecraft, automotive, electrical production and equipment, computing and data storage, as well as optical and medical technology equipment. Compound annual growth in these types of exports is expected to be 16% for the years 2017-2023.3 
Outlook
Optimism toward EMs has picked up following another interest-rate cut by the US Federal Reserve (Fed), as well as increased expectations for the signing of "phase one" of the US-China trade deal. While both sides appear to be approaching a partial trade agreement, we remain cautious and expect to see some market volatility until a more comprehensive deal is finalized.
Despite the uncertainty, we continue to see investment opportunities across EMs. We expect overall corporate earnings to strengthen in 2020 as upturns in some parts of the technology sector offer support. We also consider valuations for EM equities to be attractive relative to developed market equities. Meanwhile, we remain on the lookout for areas where corporate governance could improve and potentially bolster shareholder value.
We are focused on identifying high-quality companies where we see sustainable earnings power, and which trade at what we think is a discount to their intrinsic worth. We see strong competitive advantages in several technology and consumer-related companies that are also among our top holdings, and we believe they have the potential to extend their market positions even in a challenging environment.
Emerging Markets Key Trends and Developments
EM equities rose in October and outpaced developed market stocks. The prospect of a partial US-China trade deal, plus interest-rate cuts from the Fed and other central banks around the world, eclipsed pockets of political uncertainty in Latin America and the Middle East. EM currencies as a whole strengthened against the US dollar. The MSCI Emerging Markets Index gained 4.2% over the month, compared with a 2.6% return in the MSCI World Index, both in US dollars.4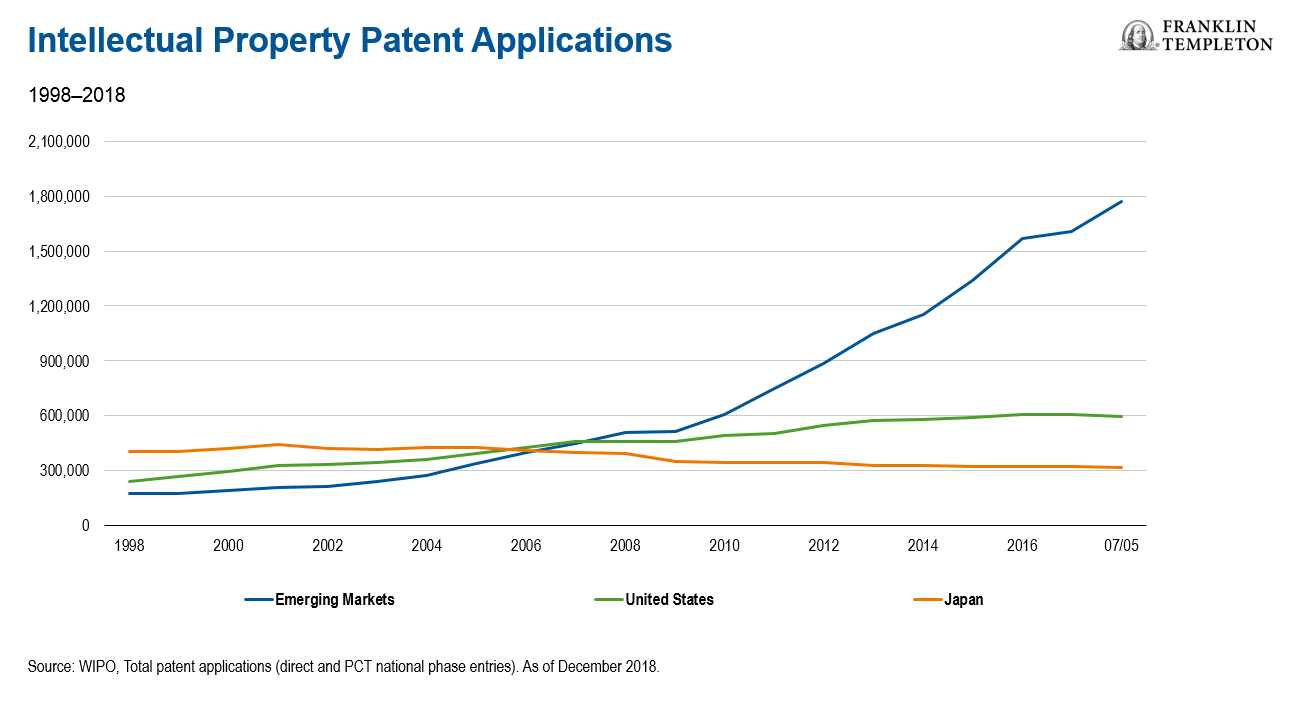 The Most Important Moves in Emerging Markets in October
Asian equities finished the month higher. Chinese stocks benefitted from a tentative pause in US-China trade disputes as both countries worked toward concluding the first phase of a trade agreement. Technology-heavy indexes in Taiwan and South Korea rose on the back of improved expectations for smartphone and memory chip demand. The Bank of Korea also lowered its benchmark interest rate to support the domestic economy. Conversely, Thailand's equity market retreated amid a weaker economic outlook, and subdued corporate earnings.
Mixed news dominated Latin American markets. Colombia and Brazil were key gainers in the region. The long-awaited passage of a pension reform bill in Brazil cheered investors, as did the central bank's decision to cut its key interest rate to a record low. Sentiment in Mexico rose on President Andres Manuel Lopez Obrador's plans to unveil several major infrastructure projects to boost the economy. However, social unrest in Chile and the defeat of Argentina's business-friendly president in the country's general election checked positive sentiment.
In the Europe, Middle East and Africa region, Hungarian and Russian equities advanced the most. The Bank of Russia announced a larger-than-expected interest-rate cut amid subdued domestic economic growth. In South Africa, investors focused on the government's medium-term budget policy statement, which flagged a wider budget deficit and higher debt ahead amid an ongoing bailout of state power utility Eskom. At the other end of the spectrum, equities in Turkey and Saudi Arabia fell.
Regional Outlook

| ISO Code | Country | Sentiment Score | Opinion |
| --- | --- | --- | --- |
| CN | China | 0 | Economic conditions could remain soft as the trade dispute is unlikely to be resolved in the near term. The restrictions on Huawei could also have a long-term impact on the IT sector as supply chains may need to be reshuffled. The government's supporting policies, as opposed to stimulus in the past, are mainly fiscal in nature and have been credible. Interest-rate cuts are expected, but the pace may disappoint. While the market has come off its peak, sentiment may turn positive if trade talks progress well or the government's supportive measures prove to be strong enough to counter the drag from the weak trade outlook. |
| IN | India | 0.5 | Long-term fundamentals including under-penetration, formalization of the economy and a stable government remain intact. However, the improving current account deficit and improving corporate earnings (aided by recent tax cuts) are offset by high valuations and slowing consumption growth. |
| | | | |
| KR | South Korea | 0.5 | Macro indicators remain sound. However, concerns about government regulations are growing, while the geopolitical situation warrants close attention. |
| PK | Pakistan | 0 | Uncertainty remains, with concerns including a structurally weak economy with high trade and current account deficits.. |
| TW | Taiwan | 0.5 | The US-China trade dispute brings uncertainty to the market. The restrictions on Huawei also disrupt the entire supply chain where many Taiwanese IT companies are engaged. Weaker-than-expected IT product demand is also worrying. Fundamentals remain weak, with an extended recovery period expected. However, the market has already corrected, pricing in these negative factors, and we believe some value may now be emerging. |
| VN | Vietnam | 0.5 | The IMF estimates 2019 GDP growth at 6.5%, underpinned  by resilient domestic demand and strong export-oriented manufacturing. Risks include a slowdown in exports and investment. |
| PL | Poland | 0.5 | The Economic Sentiment Indicator (ESI) remained unchanged at 102.2 in August compared with July, and in contrast to the deterioration recorded since the beginning of the year. Services confidence rose to 1.1, exceeding its six-month average of 0.7, while retail trade confidence rose to 1.4 in August, from 0.9 in July. |
| CZ | Czech Republic | 1 | The Economic Sentiment Indicator (ESI) rose to 104.6 in August from 103.9 in July, rising for the second consecutive month, yet remaining short of the six-month average of 104.9. The improvement was mainly driven by services confidence, which recovered after deteriorating at the beginning of the year. |
| HU | Hungary | 1 | Economic performance has generally been in line with sentiment, which has signaled a softening in activity since the beginning of the year. In August, the ESI, however, indicated a sharp pickup from July to 111.8. The gain came mainly from services and manufacturing confidence. |
| RU | Russia | 0.5 | In a stable oil price/ruble environment, domestic names should benefit due to earnings revisions and increased demand. The political situation should remain stable with the next presidential election scheduled for 2024. However, macro risks remain high due to volatile commodity prices and the possibility of additional US/EU sanctions. |
| | | | |
| | | | |
| BR | Brazil | 1 | The new government's emphasis on implementing ambitious economic reforms could provide a basis for higher economic growth and a better business environment for companies. |
| MX | Mexico | 0.5 | It is difficult to assess if the glass is half full or half empty with President Andrés Manuel López Obrador. While he may be pragmatic and should not jeopardize macroeconomic stability, his autocratic ruling method leaves the door open to a lack of checks and balances. As a result, we may see policies swaying between populism and rationality. |
| QA | Qatar | 0.5 |  Risks include slowing economic growth, political conflict and deadlock and continued weak investor appetite. |
| KW | Kuwait | 0.5 | MSCI upgrade to EM status (to be implemented in May 2020) could be a strong catalyst for the market. Kuwait's fiscal position appears stronger than its regional peers and hence more defensive. A persistent risk is political deadlock, which often leads to slower fiscal reforms and investments. |
| SA | Saudi Arabia | 0.5 | The Index inclusion upgrade story is behind us now. The focus has returned to fundamentals and valuations, which are currently not supportive of a strong performance. |
| AE | United Arab Emirates | 0.5 | Within the region, the UAE is least dependent on oil revenues. Fiscal reforms such as the VAT implementation have been successful. The strong property sector, however, needs to be monitored closely. |
| EG | Egypt | 0.5 | Egypt has made a committed step toward economic reforms. It is witnessing receding inflation and a strengthening currency. |
| KE | Kenya | 0.5 | Our outlook remains neutral to positive. The IMF expects around 6% GDP growth for 2019. |
| NG | Nigeria | 0 | The market is improving from a macro perspective with higher oil production, steadying inflation and foreign exchange liquidity.  Expectations for reforms from President Buhari, however, remain low. Concerns regarding investment into Nigeria also remain, given the substantial claims against telecom company, MTN. |
| ZA | South Africa | 0 | The outlook remains muted and dependent on the government. 2019 is likely to be tougher than expected with additional pressure from a weaker global backdrop. |
The graphic reflects the views of Franklin Templeton Emerging Markets Equity regarding each region and are updated on a quarterly basis. All viewpoints reflect solely the views and
opinions of Franklin Templeton Emerging Markets Equity. Not representative of an actual account or portfolio.
Important Legal Information
This material is intended to be of general interest only and should not be construed as individual investment advice or a recommendation or solicitation to buy, sell or hold any security or to adopt any investment strategy. It does not constitute legal or tax advice. The views expressed are those of the investment manager(s) and the comments, opinions and analyses are rendered as of the publication date and may change without notice. 
Data from third party sources may have been used in the preparation of this material and Franklin Templeton Investments ("FTI") has not independently verified, validated or audited such data. FTI accepts no liability whatsoever for any loss arising from use of this information and reliance upon the comments opinions and analyses in the material is at the sole discretion of the user.
The companies and case studies shown herein are used solely for illustrative purposes; any investment may or may not be currently held by any portfolio advised by Franklin Templeton Investments. The opinions are intended solely to provide insight into how securities are analyzed. The information provided is not a recommendation or individual investment advice for any particular security, strategy, or investment product and is not an indication of the trading intent of any Franklin Templeton managed portfolio. This is not a complete analysis of every material fact regarding any industry, security or investment and should not be viewed as an investment recommendation. This is intended to provide insight into the portfolio selection and research process. Factual statements are taken from sources considered reliable, but have not been independently verified for completeness or accuracy. These opinions may not be relied upon as investment advice or as an offer for any particular security.
Past performance does not guarantee future results.
Products, services and information may not be available in all jurisdictions and are offered outside the US by other FTI affiliates and/or their distributors as local laws and regulation permits. Please consult your own professional adviser or Franklin Templeton institutional contact for further information on availability of products and services in your jurisdiction.
What Are the Risks?
All investments involve risks, including possible loss of principal. Stock prices fluctuate, sometimes rapidly and dramatically, due to factors affecting individual companies, particular industries or sectors, or general market conditions. Special risks are associated with foreign investing, including currency fluctuations, economic instability and political developments; investments in emerging markets involve heightened risks related to the same factors. To the extent a strategy focuses on particular countries, regions, industries, sectors or types of investment from time to time, it may be subject to greater risks of adverse developments in such areas of focus than a strategy that invests in a wider variety of countries, regions, industries, sectors or investments.
________________________
1. Source: National Bureau of Statistics of China.
2. Source: International Monetary Fund, World Economic Outlook Database, October 2019. There is no assurance that any estimate, forecast or projection will be realized.
3. Source: Coriolis Technologies.
4. Source: Source: MSCI. The MSCI Emerging Markets Index captures large- and mid-cap representation across 24 emerging-market countries. The MSCI World Index captures large- and mid-cap performance across 23 developed markets. Indexes are unmanaged and one cannot directly invest in them. They do not include fees, expenses or sales charges. Past performance is not an indicator or guarantee of future results. MSCI makes no warranties and shall have no liability with respect to any MSCI data reproduced herein. No further redistribution or use is permitted. This report is not prepared or endorsed by MSCI. Important data provider notices and terms available at www.franklintempletondatasources.com.