This post is also available in: French, Spanish
Three Things We're Thinking About Today
The COVID-19 coronavirus outbreak was declared a pandemic by the World Health Organization on March 11. Global cases exceeded 1.2 million in early April, with the United States, Italy, Spain, Germany and France among the countries with the largest number of cases. Efforts to curb the spread of COVID-19 led to severe mobility restrictions in many countries and in some cases a complete lockdown, heightening fears of a global recession as economies came to a standstill. Liquidity in global financial markets dried up, with many equity markets entering bear-market territory. Unprecedented fiscal and monetary stimulus globally, however, helped stabilize markets in late-March. While this is a difficult time, we are actively engaged with companies to better understand both the short- and long-term impact of COVID-19 and the subsequent behavioral changes on companies. This knowledge will help us to position our portfolios accordingly.
In a case of first-in, first-out, the spread of COVID-19 appears to be contained in China. Although there have been concerns of a second wave via imported cases from outside of China, the measures in place have thus far been able to limit local transmission. This has allowed the government to shift its focus from containment toward economic normalization, with restrictions gradually being relaxed and production capacity getting back online (about 80-90% at the time of this writing). While Chinese economic data reported over the first quarter were some of the worst in decades, we expect to see the start of a recovery in the second quarter as the situation in the country continues to normalize and impact from the authorities' monetary policies filters through the economy. As a net oil importer, low oil prices will also benefit the economy, acting as a direct stimulus to consumers, most businesses and the central government. We expect a sharp rebound in domestic activity over the second half of 2020, driven by pent-up demand and government stimulus, with risks to this outlook primarily driven by halting activity in developed markets. Overall, China's market has been relatively resilient, reflecting both some look-through as well as government support.
The collapse in OPEC+1 negotiations in early March and Saudi Arabia's subsequent, aggressive undercutting of its official selling prices sparked an oil price war, compounding the impact of slowing demand amid a dip in global economic growth due to the global spread of COVID-19. As a result, oil prices plunged in March. The negative near-term impact on energy companies, as well as the secondary effect on economic growth in oil-exporting countries, could be considerable. Nonetheless, the oil price crash earlier in the last decade resulted in a sustained period of company (and fiscal) deleveraging, paired with improved cost control as well as encouraging, greater caution toward the sector—at least for us. Taking a longer-term view, we think selective low-cost producers with strong balance sheets remain attractive. We believe that high-quality and efficient upstream players in China and Thailand benefit from defensive balance sheets or earnings from natural gas production supporting continuity of dividends. Overall, most emerging economies will benefit from lower oil prices despite the near-term negative market reaction. In an environment of slowing economic growth due to COVID-19, lower oil prices represent a substantial additional stimulus to the broader asset class, particularly within Asia, where most countries are net oil importers.
Outlook
While the United States and Europe are just beginning to feel the economic impact of COVID-19, China is starting to recover. We expect China to perform relatively better than its global counterparts, but without a global coordinated response to both demand and supply shocks (which at the moment looks unlikely given the current US-China and Saudi Arabian-Russian relations), we may be facing negative global growth for 2020.
The longer-term outcome will depend on the degree and duration of demand destruction in developed countries. The impact on supply chains of key technology, health care and industrial products—and the degree to which end customers are willing to pay more for greater security of supply—are key questions. Companies, such as those in the technology space, that could benefit from permanent behavioral changes (such as an increase in e-commerce, e-learning and cloud computing) are likely to be more strongly embraced.
Across our portfolios, we are positioned in long-term themes including consumption premiumization, digitalization, health care and technology. In the short term, COVID-19 is accelerating the adoption of products or behaviors that are beneficial for some of these long-term themes.
Emerging Markets Key Trends and Developments
Stocks worldwide tumbled in a volatile quarter, with emerging market (EM) equities falling more than their developed market counterparts. The escalation of a China-centered coronavirus outbreak into a global pandemic disrupted segments of the world economy and fanned recession fears. Governments and central banks stepped in with massive fiscal and monetary stimulus. In a separate adverse development, energy prices plunged amid softer demand and the collapse of a supply pact among major energy producers. EM currencies were broadly weaker against the US dollar. In the first quarter, the MSCI Emerging Markets Index declined 23.6%, while the MSCI World Index fell 20.9%, both in US dollars.2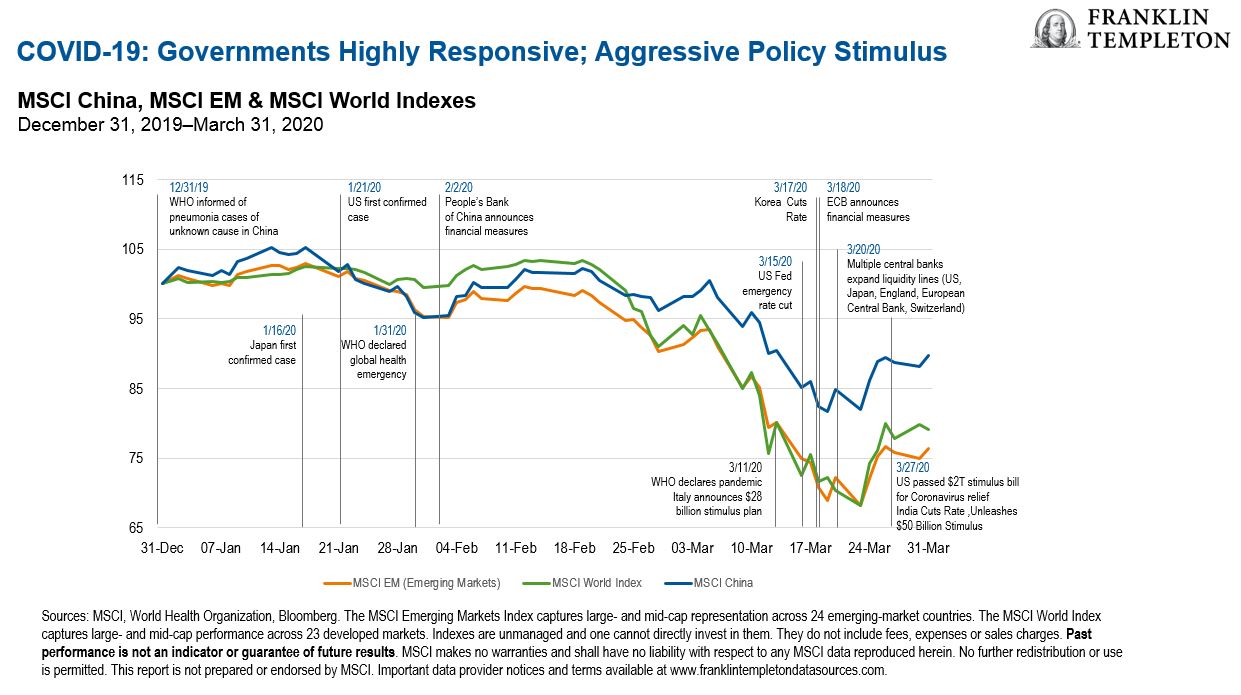 The Most Important Moves in Emerging Markets in the First Quarter of 2020    
Asian stocks endured a selloff in the quarter amid a rapid rise in coronavirus infections outside China. Investors counted the economic costs of travel restrictions, supply chain disruptions and weaker demand, while policymakers unveiled fiscal support, interest-rate cuts, lower reserve requirements for banks, and other relief measures. China's stock market fell, but pared some losses toward quarter-end as the country appeared to contain the virus and economic activity appeared to gradually improve. South Korea also showed results in slowing the virus' spread. To cushion the economy, the authorities cut the benchmark interest rate to a record low and announced relief packages for households and businesses. Several other markets continued to contend with a jump in infections. Indonesia declared a public health emergency and downgraded its economic outlook. Thailand's central bank warned of a contraction for the tourism-reliant economy this year.
Fears over the economic impact of COVID-19 and an oil price war that saw oil prices fall sharply in March made Latin America the worst-performing region for the quarter. Depreciation in domestic currencies also accounted for a large part of the decline in US dollar terms. Brazilian equities fell 50% over the three-month period in US dollar terms, making it the region's worst performer. The government announced measures to support the population and economy, while the central bank lowered its key interest rate to a record-low of 3.75% to help mitigate the effects of the outbreak. Losing about a third of their value in US dollar terms, Chile, Mexico and Peru fared relatively better. Following a 0.25% rate cut in February, the Bank of Mexico cut its benchmark interest rate by 0.5% and announced several measures to support financial markets in an extraordinary meeting in March. The adoption of early preventive measures to slow the spread of COVID-19, interest rate cuts and strong stimulus measures supported investor sentiment in Chile and Peru.
In line with their global peers, markets in the Europe, Middle East and Africa region lost ground over the quarter as fears over the economic impact of social distancing policies implemented amid the COVID-19 outbreak weighed on financial markets. The collapse in oil prices in March further weighed on the Russian market. Policymakers, however, announced a range of measures to support households and businesses affected by mobility restrictions. The Constitutional reform vote scheduled for April 22 was also postponed. The South African market was among the weakest markets in the region, with a devaluation in the rand partly to blame. A sovereign credit rating cut to sub-investment grade by international rating agency Moody's compounded concerns. The South African Reserve Bank announced a number of quantitative easing measures including a higher-than-expected 1.0% rate cut in March amid growing worries, as the country embarked upon a 21-day lockdown to slow the local transmission of COVID-19. This followed a 0.25% rate cut in January. Qatar, Saudi Arabia and Egypt, however, fared better than their regional peers.
Regional Outlook
Scroll over the map to view comments on the countries indicated and our sentiment.
Green = positive, Red = negative, Blue = neutral
The graphic reflects the views of Franklin Templeton Emerging Markets Equity regarding each region and are updated on a quarterly basis. All viewpoints reflect solely the views and opinions of Franklin Templeton Emerging Markets Equity. Not representative of an actual account or portfolio.
Regional Outlook

| ISO Code | Country | Sentiment Score | Opinion |
| --- | --- | --- | --- |
| CN | China | 0.5 | Economic conditions will remain weak even if COVID-19 stabilizes, as it is now a global issue. However, government policy response will likely soften the impact. It seems that China will probably be the first to recover. |
| IN | India | 0.5 | Long-term fundamentals including under-penetration, formalization of the economy and a stable government remain intact. However, the structurally constrained inflation and improving corporate earnings are offset by slowing economic growth and earnings downgrades. |
| | | | |
| KR | South Korea | 0.5 | Macro indicators remain sound. However, concerns about government regulations are growing, while the geopolitical situation and impact from COVID-19 warrants close attention. |
| TH | Thailand | 0 | Key reasons for a negative outlook include: i) weak global trade outlook; ii) decline in tourist arrivals; iii) lack of private investments to spur domestic consumption; iv) weak consumer sentiment as impact from the drought weighs on farmers' income and results in a potential increase in unemployment. |
| TW | Taiwan | 0 | Global growth concerns have increased as a result of COVID-19. The crude oil crisis has also raised uncertainty and volatility. Although the US and China reached a partial trade agreement, we expect trade issues between the two countries to continue. The Huawei ban also disrupts the supply chain, where many Taiwanese technology companies are engaged. The medium- to longer-term outlook, however, remains positive, given 5G deployment and the acceleration of production relocation from China. |
| PL | Poland | 0 | Poland is a more closed economy than its regional peers. However, negative growth is possible in 2020. The government launched a US$51 billion anti-crisis package, which may not be enough. |
| CZ | Czech Republic | 0 | The economy is highly integrated with the eurozone (and especially with the German automotive sector). An immediate rebound in car sales is unlikely. The Czech economy is expected to remain under pressure for quarters to come. |
| HU | Hungary | 0 | The economy is highly integrated with the eurozone (and especially with the German automotive sector). An immediate rebound in car sales is unlikely. The Hungarian economy is expected to remain under pressure for quarters to come. |
| RU | Russia | 0 | Macro risks remain high due to volatile commodity prices, the US-China trade conflict and the possibility of additional US/EU sanctions. The market has already corrected 40% year-to-date, and many stocks look attractive to us after correcting. However, concerns about COVID-19 continue to affect the market. In a stable oil price/ruble environment, domestic names should benefit due to earnings revisions and improved dividend yields. The political situation should remain stable with the next presidential election scheduled for 2024. |
| | | | |
| PE | Peru | 0.5 | The business confidence indicator dropped from January's 52.9 points to 48 points in February. Expectations of the general economic and business situation for the next three and 12 months have generally weakened. Peru is a relatively open economy by Latin American standards (exports account for nearly a quarter of GDP), leveraged on metals and China, its main trading partner. This could help Peru to be among the first economies to benefit from the normalization of activity in China. Informal labor in Peru is very high, and this makes it vulnerable to flow restrictions if quarantine to control the spreading of the virus were to hit the country. |
| BR | Brazil | 1 | The new government's emphasis on implementing ambitious economic reforms should provide a basis for higher long-term economic growth and a better business environment for companies. Record-low interest rates should continue driving domestic flows to equities. COVID-19 expected to have a negative short-term impact. |
| MX | Mexico | 0.5 | Mexico has an open economy with over a third of gross domestic product (GDP) heavily exposed to the United States (over 70% of exports go to the US). The length of disruptions from flow restrictions to contain the COVID-19 spread will determine the level of the slowdown. Additionally, Mexico has a large level of informal economy, which will suffer from restrictions to services impacted by quarantine if required. |
| QA | Qatar | 0.5 | Qatar appears better equipped to absorb medium-term losses given its lower debt profile and reserves. Other risks include slowing economic growth, political conflict and deadlock, and continued weak investor appetite. |
| KW | Kuwait | 0.5 | Kuwait's fiscal position appears stronger than its regional peers, and hence more defensive. The market is slated for inclusion in the MSCI Emerging Markets Index in June 2020. A persistent risk is political deadlock, which often leads to slower fiscal reforms and investments. |
| SA | Saudi Arabia | 0.5 | We believe that Saudi Arabia can wage a price war for several months up to a year given its ample reserves and moderate debt-to-GDP ratio. Despite this, the country is limited given high fiscal reliance on oil revenues with fiscal breakeven around U$80 dollars, with this price war coming at a time in which the government is due to launch several large-scale domestic projects, as well as having a key impetus of safeguarding its citizens from fiscal austerity. |
| AE | United Arab Emirates | 0.5 | Within the region, the UAE is least dependent on oil revenues. Fiscal reforms such as the VAT implementation have been successful. The strong property sector, however, needs to be monitored closely. |
| EG | Egypt | 0.5 | Egypt has made a committed step toward economic reforms. It is witnessing receding inflation and a strengthening currency. |
| KE | Kenya | 0.5 | Our outlook remains neutral to positive. The International Monetary Fund expects around 6% GDP growth for 2020, which will likely need to be downgraded. |
| NG | Nigeria | 0 | While valuations remain cheap, lower oil prices change the dynamics for the currency and overall macroeconomic situation in the country. |
| ZA | South Africa | 0 | The outlook remains muted and dependent on the government. 2020 is likely to be tougher than expected, with additional pressure from a weaker global backdrop and sentiment. |
Important Legal Information
This material is intended to be of general interest only and should not be construed as individual investment advice or a recommendation or solicitation to buy, sell or hold any security or to adopt any investment strategy. It does not constitute legal or tax advice.
The views expressed are those of the investment manager and the comments, opinions and analyses are rendered as of publication date and may change without notice. The information provided in this material is not intended as a complete analysis of every material fact regarding any country, region or market.
Data from third party sources may have been used in the preparation of this material and Franklin Templeton ("FT") has not independently verified, validated or audited such data. FT-s accepts no liability whatsoever for any loss arising from use of this information and reliance upon the comments, opinions and analyses in the material is at the sole discretion of the user.
Products, services and information may not be available in all jurisdictions and are offered outside the U.S. by other FT affiliates and/or their distributors as local laws and regulation permits. Please consult your own professional adviser or Franklin Templeton institutional contact for further information on availability of products and services in your jurisdiction.
Issued in the U.S. by Franklin Templeton Distributors, Inc., One Franklin Parkway, San Mateo, California 94403-1906, (800) DIAL BEN/342-5236, franklintempleton.com—Franklin Templeton Distributors, Inc. is the principal distributor of Franklin Templeton Investments' U.S. registered products, which are not FDIC insured; may lose value; and are not bank guaranteed and are available only in jurisdictions where an offer or solicitation of such products is permitted under applicable laws and regulation.
What Are the Risks?
All investments involve risks, including possible loss of principal. Stock prices fluctuate, sometimes rapidly and dramatically, due to factors affecting individual companies, particular industries or sectors, or general market conditions. Special risks are associated with foreign investing, including currency fluctuations, economic instability and political developments; investments in emerging markets involve heightened risks related to the same factors. To the extent a strategy focuses on particular countries, regions, industries, sectors or types of investment from time to time, it may be subject to greater risks of adverse developments in such areas of focus than a strategy that invests in a wider variety of countries, regions, industries, sectors or investments.
______________________________
1. OPEC+ is an alliance of oil producers, including members and non-members of the Organization of the Petroleum Exporting Countries.
2. Source: MSCI. The MSCI Emerging Markets Index captures large- and mid-cap representation across 24 emerging-market countries. The MSCI World Index captures large- and mid-cap performance across 23 developed markets. Indexes are unmanaged and one cannot directly invest in them. They do not include fees, expenses or sales charges. Past performance is not an indicator or guarantee of future results. MSCI makes no warranties and shall have no liability with respect to any MSCI data reproduced herein. No further redistribution or use is permitted. This report is not prepared or endorsed by MSCI. Important data provider notices and terms available at www.franklintempletondatasources.com.