This post is also available in: French
Near-Term Resilience Could Spell Long-Term Opportunity for Emerging Markets
As investors digest the latest developments and potential implications from the coronavirus, leading emerging markets have demonstrated resilience in the face of uncertainty. The latest vaccine headlines could signal a return to normalcy for some emerging markets sooner than anticipated, despite a resurgence in infections for many developed markets.
We have seen emerging market economies react to the current surge in cases reasonably well. This suggests to us that the potential economic impact could be less severe than what we saw at the beginning of the year, where many countries were in the first phase of lockdowns to varying degrees.
With a stronger outlook emerging, the tumultuous year looks like it could end on a more optimistic note, in our view. Some emerging market economies continue to show long-term investment opportunities through the way China, Taiwan and South Korea have handled the pandemic this year. We view this as a testament to the quality of their governance and health care systems.
In particular, we've seen some positive sentiment towards Chinese equities from improved circumstances—US President-elect Joe Biden's administration could bring more predictable US-China entanglements. This sentiment was echoed in Mexican stocks, as Biden's victory offered investors for steadier US-Mexico relations. And, in the case of South Korea, investor optimism soared on the prospect of improved trade prospects for the export powerhouse. Elsewhere, we still believe there could be long-term investment opportunities. For example through India's consumption story, despite the economy's cyclical slowdown, and Brazil's economic drivers through its demographics, continued government reforms and abundant natural resources.
The New Economy
The very nature of emerging markets has moved away from an old-economy model that relies on materials, energy and industrials. In its place a new economy fueled by consumer discretionary, consumer staples, information technology and communication services.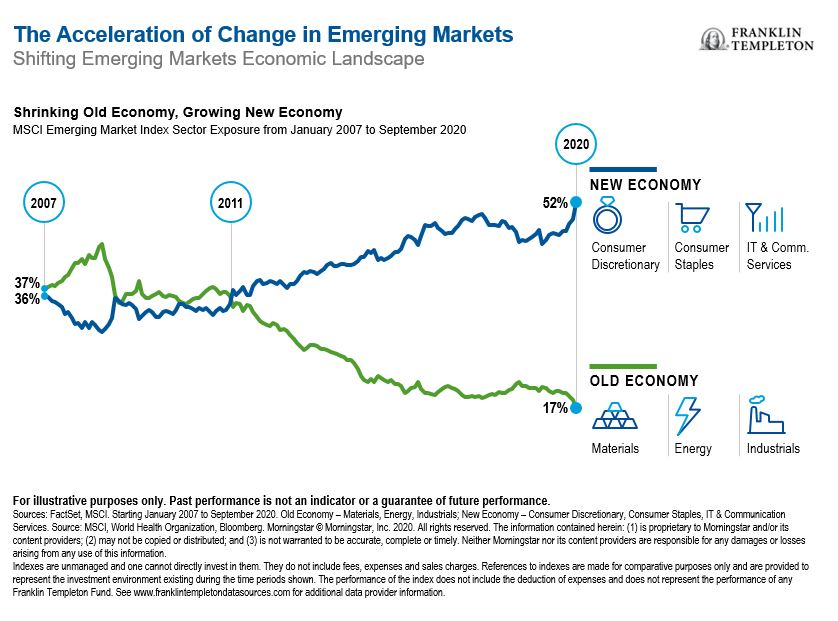 In this new economy, we favor companies that display resilience to economic and other forms of disruption. One particular trend we've closely followed is digital disruption, which helps us weed out businesses with distinct competitive advantages in technology and innovation. We've seen many companies adopt new technologies and shift aspects of their business online, with examples including moving tutoring online, creating interactive shopping experiences through live streaming, to in-game monetization opportunities on gaming platforms. This has also driven an acceleration in the adoption of technology hardware, including semiconductors for cloud computing, batteries for e-mobility and greater demand for the cloud, driven by home-working, e-commerce and gaming.
In addition, increasing numbers of companies are demonstrating a commitment toward corporate governance and broader environmental, social and corporate governance (ESG) improvement, which we think remains an underappreciated tailwind for emerging markets.
Historically, crises have been a spur for greater innovation, resilience and adaptation to new challenges. We've seen emerging markets overtake some of the more advanced economies in areas such as e-commerce, e-payments and contact-tracing mobile applications. The global health crisis has accelerated various existing trends through the adoption of new technology and next-generation infrastructure, while some developed market peers have struggled to expand upon legacy systems.
In sum, the global pandemic has brought a cloud of uncertainty, but has accelerated some long-term themes that we've been following in recent years. We think many of these shifts will likely continue in 2021.
For timely investing tidbits, follow us on Twitter @FTI_emerging and on LinkedIn.
What Are the Risks?
All investments involve risks, including possible loss of principal. Stock prices fluctuate, sometimes rapidly and dramatically, due to factors affecting individual companies, particular industries or sectors, or general market conditions. Special risks are associated with foreign investing, including currency fluctuations, economic instability and political developments. Investments in emerging markets involve heightened risks related to the same factors, in addition to those associated with these markets' smaller size and lesser liquidity. To the extent a strategy focuses on particular countries, regions, industries, sectors or types of investment from time to time, it may be subject to greater risks of adverse developments in such areas of focus than a strategy that invests in a wider variety of countries, regions, industries, sectors or investments. To the extent a strategy focuses on particular countries, regions, industries, sectors or types of investment from time to time, it may be subject to greater risks of adverse developments in such areas of focus than a strategy that invests in a wider variety of countries, regions, industries, sectors or investments. China may be subject to considerable degrees of economic, political and social instability. Investments in securities of Chinese issuers involve risks that are specific to China, including certain legal, regulatory, political and economic risks.
Important Legal Information
This material is intended to be of general interest only and should not be construed as individual investment advice or a recommendation or solicitation to buy, sell or hold any security or to adopt any investment strategy. It does not constitute legal or tax advice. The views expressed are those of the investment manager and the comments, opinions and analyses are rendered as of publication date and may change without notice. The information provided in this material is not intended as a complete analysis of every material fact regarding any country, region or market.
Data from third party sources may have been used in the preparation of this material and Franklin Templeton ("FT") has not independently verified, validated or audited such data. FT accepts no liability whatsoever for any loss arising from use of this information and reliance upon the comments, opinions and analyses in the material is at the sole discretion of the user.
The companies and case studies shown herein are used solely for illustrative purposes; any investment may or may not be currently held by any portfolio advised by Franklin Templeton. The opinions are intended solely to provide insight into how securities are analyzed. The information provided is not a recommendation or individual investment advice for any particular security, strategy, or investment product and is not an indication of the trading intent of any Franklin Templeton managed portfolio. This is not a complete analysis of every material fact regarding any industry, security or investment and should not be viewed as an investment recommendation. This is intended to provide insight into the portfolio selection and research process. Factual statements are taken from sources considered reliable, but have not been independently verified for completeness or accuracy. These opinions may not be relied upon as investment advice or as an offer for any particular security. Past performance does not guarantee future results.
Products, services and information may not be available in all jurisdictions and are offered outside the U.S. by other FT affiliates and/or their distributors as local laws and regulation permits. Please consult your own financial professional or Franklin Templeton institutional contact for further information on availability of products and services in your jurisdiction.
Issued in the U.S. by Franklin Templeton Distributors, Inc., One Franklin Parkway, San Mateo, California 94403-1906, (800) DIAL BEN/342-5236, franklintempleton.com—Franklin Templeton Distributors, Inc. is the principal distributor of Franklin Templeton's U.S. registered products, which are not FDIC insured; may lose value; and are not bank guaranteed and are available only in jurisdictions where an offer or solicitation of such products is permitted under applicable laws and regulation.
CFA® and Chartered Financial Analyst® are trademarks owned by CFA Institute.