Three Things We're Thinking About Today
US President Joe Biden's stimulus plans have reached US$6 trillion, paired with continued vast quantitative easing. The expected resurgence in US growth boosted equity markets and led to a bounce in the US dollar earlier in the year. However, the US dollar has resumed its decline, with EMs also outperforming US equities after a brief period of underperformance. One reason for this could be because higher income, capital gains and corporate taxes are expected to pay for the US$6 trillion funding, and that is not conducive for US corporate earnings or US investors. In contrast, leading EMs have not needed to engage in monetary and fiscal measures of this magnitude and will not have a US$6 trillion tax bill. Thus, the spurt in US growth is expected to be relatively short, petering out by 2022. Emerging markets (EM) are still expected to lead the global economic recovery, with forecasted 2021 GDP growth of 6.7% vs. 6.4% for the United States.1 The EM growth premium widens to 1.5% in 2022.
Despite its strong market performance in recent years, we believe Russia remains one of the most undervalued markets in Europe as well as the EM universe. Russia has an internally focused economy and policy flexibility (given twin surpluses in its fiscal and current accounts), providing a conducive environment for companies operating domestically. It has little sovereign debt and considerable foreign exchange reserves, allowing it to withstand most financial shocks. In addition to being one of best-positioned oil producers globally, the country's new economy is also thriving. For example, the country's leading bank has developed a digital network that incorporates artificial intelligence, big data and robotization. Similarly, Russia's leading search engine has built an impressive ecosystem. Looking forward, given a gradual recovery in business activity, higher oil prices and stable environment for the Russian ruble, we believe that Russian companies will likely benefit from positive earnings revisions and improved distribution to shareholders as buybacks and dividends also increase.
We believe disruption in innovation and technology continues to support the powerful long-term structural case for investing in EMs. Solar is one opportunity we have identified within this theme of disruption. Advancements in technology and innovation are allowing more sunlight to be converted into energy, and the scope for future growth is considerable. One aspect of solar that has deterred investors in the past is policy risk. This risk is falling, however, as the environment and concerns about global warming are at the top of global leaders' agendas and new solar projects no longer require government subsidies. For example, in China, President Xi Jinping has set a target for the country to be carbon-neutral by 2060 and for 25% of the energy mix to be from renewables by 2030. China is a world leader in solar production and has the two largest players (the world's largest solar photovoltaic glass producer as well as the second largest global solar glass producer) in what is a highly concentrated market. Hence, we believe China offers attractive investment exposure to global leaders that are disrupting energy markets.
Outlook  
Although we continue to see mixed progress amid the COVID-19 pandemic, signs of a tapering in new daily cases in severely affected markets such as India raised hopes of a return to normalcy as governments continue to expand vaccination efforts. In general, we believe that EMs will continue to show resilience with many countries successfully adapting to, or suppressing, the virus.
As long-term oriented bottom-up stock pickers, our emphasis is on investing in companies with sustainable competitive advantages and growth trajectories that are available at a discount to their intrinsic worth. One key area of focus for us remains technology, and we are positioned in collaborators with larger technology companies and leaders (or companies primed to become leaders) in their industry or area of expertise. These include hardware distributors and consumer electronics supply chain manufacturers, internet companies and e-commerce businesses. We believe that these companies are benefiting from disruption, digitalization and new energy trends as well as the stay-at-home culture borne out of the COVID-19 pandemic.
Another major theme in EMs is consumption, which we believe is not only a story of superior demographics and increased product penetration. While we expect to see continued structural growth in demand for goods and services considered staples in developed markets, premiumization is the next natural transition as growing middle-class populations, urbanization and increasing affluence spur demand for higher-end products.
While we believe policymaking could be a major headwind in many markets in 2021, we also view it to be a significant tailwind in many other markets. For example, while we saw a correction in China's technology companies because of increased regulatory policies, we have also seen many EM governments encourage and incentivize local manufacturing and even combat climate change, which could provide attractive opportunities for EM investors.
Emerging Markets Key Trends and Developments
EM equities rose in May and outpaced developed market stocks. A weaker US dollar bolstered investors' overall risk appetite. Emerging Europe and Latin America were regional standouts, as growing hopes of economic normalization and higher commodity prices drove rallies in several markets. Emerging Asia's performance was comparatively subdued amid COVID-19's resurgence in some economies. The MSCI Emerging Markets Index rose 2.3% over the month, while the MSCI World Index returned 1.5%, both in US dollars.2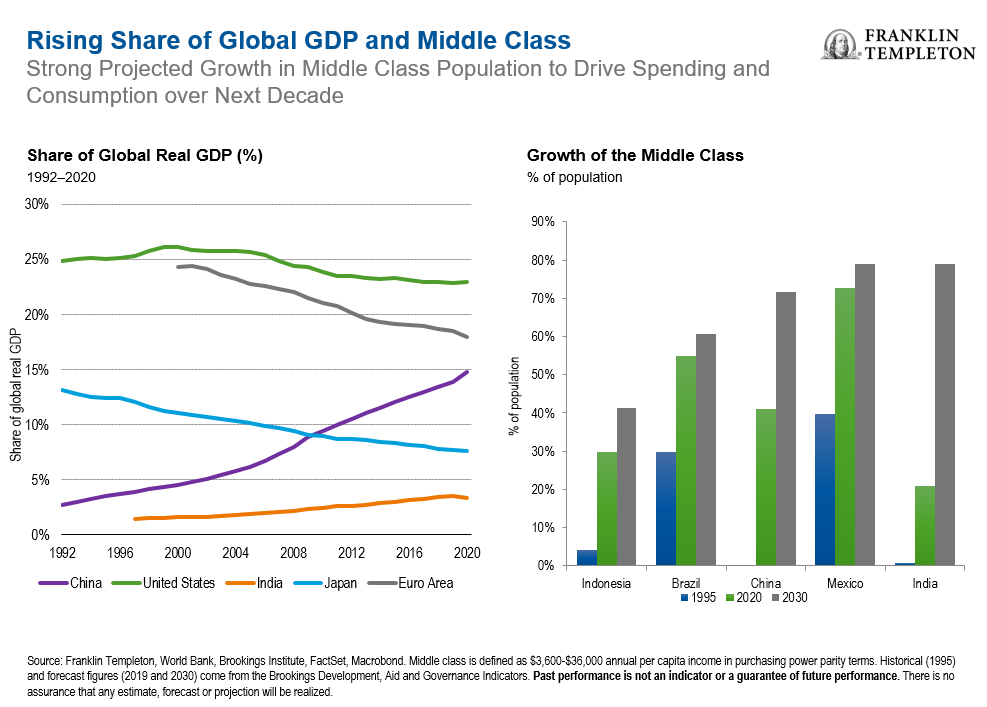 The Most Important Moves in Emerging Markets in May 2021
Market sentiment was uneven across emerging Asia in May. Stocks in India climbed as its second COVID-19 wave showed signs of receding. In the Philippines, a partial easing of COVID-19 curbs and the government's economic stimulus plan lifted the market. Chinese equities eked out a slight gain amid mixed economic data and continued regulatory scrutiny on the internet industry. Conversely, stocks in Malaysia and Taiwan fell. Taiwan confronted its worst outbreak and imposed new restrictions, just as power outages hit parts of the island.
Latin American equities outpaced broader EMs in May. Peru, Brazil and Mexico were among the region's leaders, while Chile, Argentina and Colombia underperformed. Appreciation in the Brazilian real and higher commodity prices along with an improving global outlook drove Brazil's performance. Solid manufacturing and business sentiment data coupled with strong US growth expectations drove investor confidence in Mexican equities. A potential tax hike on the mining sector weighed on the Chilean market, while S&P's sovereign rating downgrade to sub-investment grade pressured returns in Colombia.
Strength in Eastern European markets bolstered returns in the Europe, Middle East and Africa region in May. Hungary, Poland and the Czech Republic were among the top EM performers during the month, recording double-digit returns on increased normalization prospects driven by a successful vaccine program. Higher commodity prices and appreciation in the Russian ruble and South African rand supported equity prices in Russia and South Africa. At the other end of the spectrum, Egypt and Qatar ended the month with declines.
What Are the Risks?
All investments involve risks, including possible loss of principal. The value of investments can go down as well as up, and investors may not get back the full amount invested. Stock prices fluctuate, sometimes rapidly and dramatically, due to factors affecting individual companies, particular industries or sectors, or general market conditions. Special risks are associated with foreign investing, including currency fluctuations, economic instability and political developments; investments in emerging markets involve heightened risks related to the same factors. To the extent a strategy focuses on particular countries, regions, industries, sectors or types of investment from time to time, it may be subject to greater risks of adverse developments in such areas of focus than a strategy that invests in a wider variety of countries, regions, industries, sectors or investments. Smaller and newer companies can be particularly sensitive to changing economic conditions. Their growth prospects are less certain than those of larger, more established companies, and they can be volatile. China may be subject to considerable degrees of economic, political and social instability. Investments in securities of Chinese issuers involve risks that are specific to China, including certain legal, regulatory, political and economic risks.
Important Legal Information
This material is intended to be of general interest only and should not be construed as individual investment advice or a recommendation or solicitation to buy, sell or hold any security or to adopt any investment strategy. It does not constitute legal or tax advice.
The views expressed are those of the investment manager and the comments, opinions and analyses are rendered as at publication date and may change without notice. The information provided in this material is not intended as a complete analysis of every material fact regarding any country, region or market. All investments involve risks, including possible loss of principal.
Any companies and/or case studies referenced herein are used solely for illustrative purposes; any investment may or may not be currently held by any portfolio advised by Franklin Templeton. The information provided is not a recommendation or individual investment advice for any particular security, strategy, or investment product and is not an indication of the trading intent of any Franklin Templeton managed portfolio.
Data from third party sources may have been used in the preparation of this material and Franklin Templeton ("FT") has not independently verified, validated or audited such data. FT accepts no liability whatsoever for any loss arising from use of this information and reliance upon the comments opinions and analyses in the material is at the sole discretion of the user.
Products, services and information may not be available in all jurisdictions and are offered outside the U.S. by other FT affiliates and/or their distributors as local laws and regulation permits. Please consult your own financial professional or Franklin Templeton institutional contact for further information on availability of products and services in your jurisdiction.
Issued in the U.S. by Franklin Templeton Distributors, Inc., One Franklin Parkway, San Mateo, California 94403-1906, (800) DIAL BEN/342-5236, franklintempleton.com Franklin Templeton Distributors, Inc. is the principal distributor of Franklin Templeton U.S. registered products, which are not FDIC insured; may lose value; and are not bank guaranteed and are available only in jurisdictions where an offer or solicitation of such products is permitted under applicable laws and regulation.
________________________________
1. Source: International Monetary Fund, World Economic Outlook, April 2021. There is no assurance that any estimate, forecast or projection will be realized.
2. Source: MSCI. The MSCI Emerging Markets Index captures large- and mid-cap representation across 24 emerging-market countries. The MSCI World Index captures large- and mid-cap performance across 23 developed markets. Indexes are unmanaged and one cannot directly invest in them. They do not include fees, expenses or sales charges. Past performance is not an indicator or guarantee of future results. MSCI makes no warranties and shall have no liability with respect to any MSCI data reproduced herein. No further redistribution or use is permitted. This report is not prepared or endorsed by MSCI. Important data provider notices and terms available at www.franklintempletondatasources.com.