This post is also available in: French
How Does Community Group Buying Work?
A group leader in the same community as his/her customers creates and maintains a WeChat Group. Every day, he/she then promotes a selection of products to the group via a mini-app. Products are sourced directly from farmers, distributors and brands. The bulk order is delivered to the community group leader, who unpacks it for customers to collect.
With the help of technology, these groups go far beyond the circle of just family and friends. They typically consist of 100-500 people located near one another, within the same community.
What's the Advantage of Community Group Buying?
For each community member, buying in larger quantities ensures a lower cost. It also helps make products available in smaller cities, which would have a prohibitive price in smaller quantities. Often several layers of the distribution chain are cut. Especially for the elderly, it is often simpler to order through a community leader than directly on an Internet platform.
Community group buying also provides strong advantages for e-commerce companies. It solves the problem of high logistics costs and spoilage in grocery, something that other delivery models couldn't address efficiently.
Why Is Community Group Buying an Important Development?
Community group buying is rapidly becoming the last frontier of e-commerce competition in China. The total addressable market in grocery is huge in China. Estimates are around RMB11 trillion, compared to a RMB3-4 trillion apparel market.1According to market estimates, the size of the community group buying market could already exceed RMB500 billion this year, and the five-year compound annual growth rate (CAGR) may reach close to 100%.2
This means that there is still a lot of room for expansion in the already highly penetrated Chinese e-commerce market, implying strong growth potential for large Chinese Internet and e-commerce companies.
The community group buying model is still at an early stage and continues to evolve. We believe that it will gain relevance in the e-commerce market in China. Its ability to address lower-income consumers and logistics challenges faced in developing markets makes it also highly applicable to other emerging markets, such as Indonesia, India and Brazil.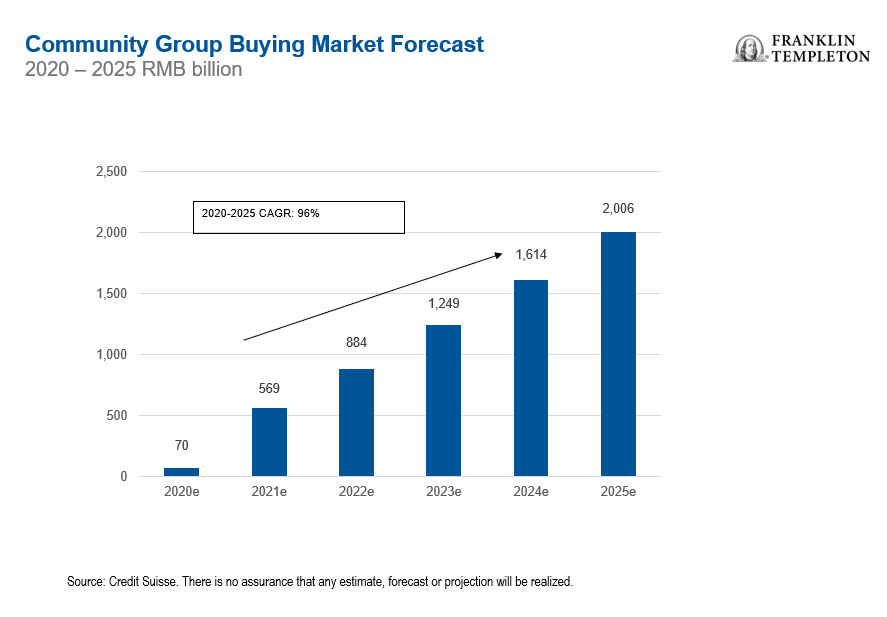 What Are the Risks?
All investments involve risks, including possible loss of principal. The value of investments can go down as well as up, and investors may not get back the full amount invested. Stock prices fluctuate, sometimes rapidly and dramatically, due to factors affecting individual companies, particular industries or sectors, or general market conditions. Special risks are associated with foreign investing, including currency fluctuations, economic instability and political developments; investments in emerging markets involve heightened risks related to the same factors. To the extent a strategy focuses on particular countries, regions, industries, sectors or types of investment from time to time, it may be subject to greater risks of adverse developments in such areas of focus than a strategy that invests in a wider variety of countries, regions, industries, sectors or investments. Smaller and newer companies can be particularly sensitive to changing economic conditions. Their growth prospects are less certain than those of larger, more established companies, and they can be volatile. China may be subject to considerable degrees of economic, political and social instability. Investments in securities of Chinese issuers involve risks that are specific to China, including certain legal, regulatory, political and economic risks.
Important Legal Information
This material is intended to be of general interest only and should not be construed as individual investment advice or a recommendation or solicitation to buy, sell or hold any security or to adopt any investment strategy. It does not constitute legal or tax advice.
The views expressed are those of the investment manager and the comments, opinions and analyses are rendered as at publication date and may change without notice. The information provided in this material is not intended as a complete analysis of every material fact regarding any country, region or market. All investments involve risks, including possible loss of principal.
Any companies and/or case studies referenced herein are used solely for illustrative purposes; any investment may or may not be currently held by any portfolio advised by Franklin Templeton. The information provided is not a recommendation or individual investment advice for any particular security, strategy, or investment product and is not an indication of the trading intent of any Franklin Templeton managed portfolio.
Data from third party sources may have been used in the preparation of this material and Franklin Templeton ("FT") has not independently verified, validated or audited such data. FT accepts no liability whatsoever for any loss arising from use of this information and reliance upon the comments opinions and analyses in the material is at the sole discretion of the user.
Products, services and information may not be available in all jurisdictions and are offered outside the U.S. by other FT affiliates and/or their distributors as local laws and regulation permits. Please consult your own financial professional or Franklin Templeton institutional contact for further information on availability of products and services in your jurisdiction.
Issued in the U.S. by Franklin Templeton Distributors, Inc., One Franklin Parkway, San Mateo, California 94403-1906, (800) DIAL BEN/342-5236, franklintempleton.com Franklin Templeton Distributors, Inc. is the principal distributor of Franklin Templeton U.S. registered products, which are not FDIC insured; may lose value; and are not bank guaranteed and are available only in jurisdictions where an offer or solicitation of such products is permitted under applicable laws and regulation.
CFA® and Chartered Financial Analyst® are trademarks owned by CFA Institute.
 ____________________________
1. Source: Bernstein
2. Source: Credit Suisse