This post is also available in: Chinese (Simplified), Italian, Spanish
Global chip shortages are drawing attention to semiconductors, which are essential for modern life. These chips provide the computing power in phones, cloud data centers, and home security systems, to name a few. The cost of electronics in an automobile has increased from 5% of the total in 1970 to 40% in 2020.1 The importance of chips to our economies is evident in the current global shutdowns in auto factories; this is driven by a cyclical boom combined with secular acceleration in demand. For example, automaker Ford has stated it expects to lose up to 50% of second-quarter production on supply shortages.2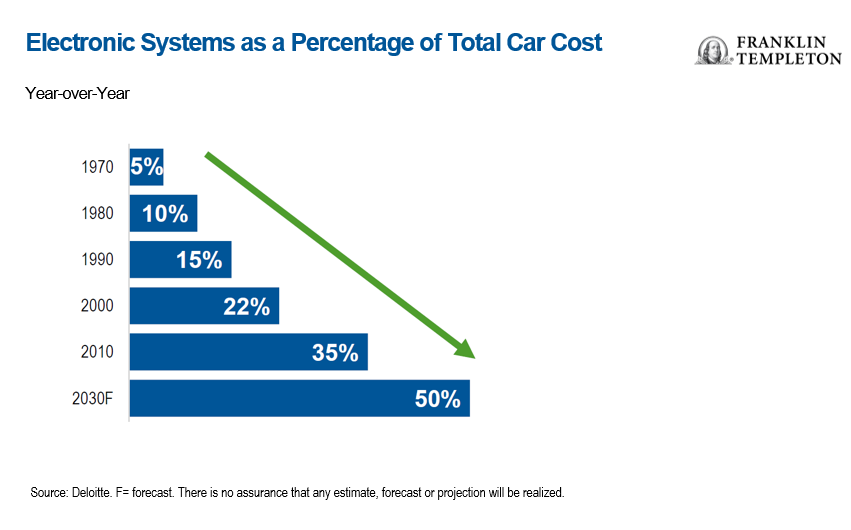 Cyclical Boom
The world is rapidly emerging from COVID-19, while stimulus is adding fuel to the fire. US gross domestic product (GDP) growth is expected to be the highest in decades this year—the International Monetary Fund's latest forecast is for GDP growth of 7%, while emerging market growth could be even higher, particularly in emerging Asia, where GDP growth is forecast above 8%.3 Consumer spending is surging, driving demand for products in which electronics are ever more pervasive.
Secular Acceleration
The pandemic has accelerated the adoption of technology. Working from home boosts the need for data centers and cloud computing. In certain Asian economies, track-and-trace systems make smartphones ever more essential for day-to-day activity, and entertainment—whether video streaming or gaming—continues to inexorably shift online.
Asian Companies Dominate
Taiwanese and South Korean semiconductor firms dominate the global industry with their strong manufacturing capabilities. Moreover, their clout has generated the cash for them to ramp up investments and widen their competitive advantages amid booming demand for chips from high-performance computing, bitcoin mining, autos, and other businesses. By comparison, Western semiconductor firms have struggled to keep up, whether in innovation or capital expenditure.
The production of a semiconductor requires two distinct phases: design and fabrication. Historically, many chip designers outsourced the manufacturing to companies with specialized manufacturing prowess and lower costs, including Taiwan Semiconductor Manufacturing Company (TSMC), which has grown to be the largest foundry globally. By mid-2020 TSMC had produced its one-billionth defect-free 7nm computer chip. US-based Intel is one of few remaining "integrated" semiconductor companies that fabricates the chips it designs, and by contrast, has yet to start mass production of its equivalent chip.
We think this example illustrates how emerging market companies are increasingly underpinning innovation and are key enablers of global digitalization.
Important Legal Information
This material is intended to be of general interest only and should not be construed as individual investment advice or a recommendation or solicitation to buy, sell or hold any security or to adopt any investment strategy. It does not constitute legal or tax advice. This material may not be reproduced, distributed or published without prior written permission from Franklin Templeton.
The views expressed are those of the investment manager and the comments, opinions and analyses are rendered as at publication date and may change without notice. The underlying assumptions and these views are subject to change based on market and other conditions and may differ from other portfolio managers or of the firm as a whole. The information provided in this material is not intended as a complete analysis of every material fact regarding any country, region or market. There is no assurance that any prediction, projection or forecast on the economy, stock market, bond market or the economic trends of the markets will be realized. The value of investments and the income from them can go down as well as up and you may not get back the full amount that you invested. Past performance is not necessarily indicative nor a guarantee of future performance. All investments involve risks, including possible loss of principal.
Any research and analysis contained in this presentation has been procured by Franklin Templeton for its own purposes and may be acted upon in that connection and, as such, is provided to you incidentally. Data from third party sources may have been used in the preparation of this material and Franklin Templeton ("FT") has not independently verified, validated or audited such data. Although information has been obtained from sources that Franklin Templeton believes to be reliable, no guarantee can be given as to its accuracy and such information may be incomplete or condensed and may be subject to change at any time without notice. The mention of any individual securities should neither constitute nor be construed as a recommendation to purchase, hold or sell any securities, and the information provided regarding such individual securities (if any) is not a sufficient basis upon which to make an investment decision. FT accepts no liability whatsoever for any loss arising from use of this information and reliance upon the comments, opinions and analyses in the material is at the sole discretion of the user. ​
Products, services and information may not be available in all jurisdictions and are offered outside the U.S. by other FT affiliates and/or their distributors as local laws and regulation permits. Please consult your own financial professional or Franklin Templeton institutional contact for further information on availability of products and services in your jurisdiction.​
Issued in the U.S. by Franklin Distributors, LLC, One Franklin Parkway, San Mateo, California 94403-1906, (800) DIAL BEN/342-5236, franklintempleton.com – Franklin Distributors, LLC, member FINRA/SIPC, is the principal distributor of Franklin Templeton U.S. registered products, which are not FDIC insured; may lose value; and are not bank guaranteed and are available only in jurisdictions where an offer or solicitation of such products is permitted under applicable laws and regulation.
Please visit www.franklinresources.com to be directed to your local Franklin Templeton web site.
What Are the Risks?
All investments involve risks, including the possible loss of principal. The value of investments can go down as well as up, and investors may not get back the full amount invested.  Stock prices fluctuate, sometimes rapidly and dramatically, due to factors affecting individual companies, particular industries or sectors, or general market conditions. Investments in foreign securities involve special risks including currency fluctuations, economic instability and political developments. Investments in developing markets involve heightened risks related to the same factors, in addition to those associated with their relatively small size and lesser liquidity.
Past performance is not an indicator or guarantee of future performance.
_______________________________
1. Source:  Deloitte.
2. Source: AP, "Ford posts profit, says chip shortage may cut production 50%," April 28, 2021.
3. Source: International Monetary Fund, US forecast as of July 2021; forecast for emerging Asia is as of April 2021, with China at 8.4% and India 12.5%. There is no assurance any estimate, forecast or projection will be realized.